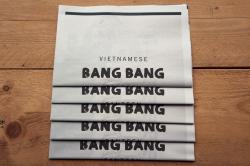 Right. The first thing I want to address is this place has been slammed recently in an article I read and I can't for the life of me think why. Here's an enthusiastic entrepreneur trying something new, ok, maybe not completely new, not right now, but there's plans afoot to make this a very cool little brand. So why slam it?
The food's not bad at all. I was a complete toss-pot, as usual, but even more-so during fashion week. So I was in the mood for celebrating when I went to Bang Bang Kanteen. The slightest thing could have still set me off, but all I got was a really good vibe. The waitress was cool, proper smiley little thing, the owner was a genuinely nice bloke, the chef was authentic as you like and they're pretty honest about what they're trying to accomplish and transparent enough to admit they're learning as the go, but they're doing well.
Summer Rolls are great. They're fresh and mouth-watering. Plus they're a particular favourite of this total ghetto hipster I have to work with. She knows her Summer Rolls like she knows how to kiss her teeth. Girlfriend be'avin no dem problems wid deez Rolls, ya get me. A nice crunch of cold carrot and crystal clear noodles with a bit of seafood for a moisture splash. Seems good to me?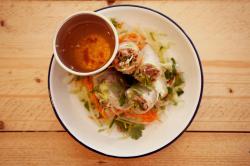 The Spring Rolls are good too – not too greasy at all. I think that's the only way you can go wrong with a Spring Rolls. As long as they're crispy more than crunchy, got some nicely seasoned meat inside then bob's your cousin. Loved them. Not as much as I loved the Bang Bang Wings, which are my favourite kind because I prefer the crunch, rather than the softness. It's still soft inside, but you know the soft-feel you get from micro-waving wings – that's the texture I don't want. These were great. Punchy, tangy sauce. Ace crunch. Winning succulence.
Steamed buns are, like, yah, sooooo the rage daaaahling. They really are. Still blows my mind. Nice ones here. Fluffy bun, lots of filling. Love them. Drinks you'll have to get for yourself. Not like Nandos. Well, same principle, but there's a beer fridge and alcohol and stuff. Pretty cool way of tarting up a t-bar for soft drinks. It's part of the upcoming theme, which, I really hope they proceed with because it's a cool sounding idea. No good if the food and service is rubbish though, right?
Service was still on fire for the mains. We had the house special of Lobster Pho. Named him Pinchy. Standard. Used his claws and head for puppet shows and silly photos. Standard. Nice lobster meat too, well done, Pinchy. The broth isn't as deeply flavoured as you'd think, but that's the catch 22 with lobster. Over intensify the broth and you risk masking the lobster. Other way round, people will deem it watery or bland. They're learning, still a lush dish, but the pork was better.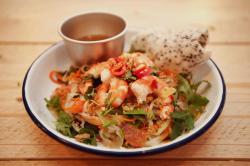 That was more than better. That was great. Usual accompanying garnishes to add heat, sour and crunch to the broth. Jews and Persians like it hot, so we both agreed to spice it up. The meat's soft and tender but still has flavour in the chew, rather than the soggy broiled stuff the local take-away will serve. Desserts not bad, just limited. Bit of ice cream, nice, finished it all off.
I guess with Facebook becoming Protestbook with countless OMG moments of you won't believe what happened next punch-lines attached to still images of something shocking about to happen that we've entered into an age of speaking one's mind. That's cool. I'm pretty sure we'll be able to vote in the election on Facebook one day because getting up to go to your local school is just too much effort but logging on and loling at something Keith just did to Barry after they both downed a crate of Special Brew each is just so much easier. Out the pocket. Lol. Like. Gorge. Die.
Still, if you're going to use your power of the pen to bash a young team trying to make a living, I don't see that as a pretty cool thing to do. Probably best for everyone if you just didn't walk that mile extra to come and slate a place that I personally had a wicked experience in. Put the Blue Nun down, step away from the keyboard and be honest. It's fun. It's good food. It's good service. That's why it's packed and sometimes tricky to get a table. Go for the food, stay for what they've got planned.