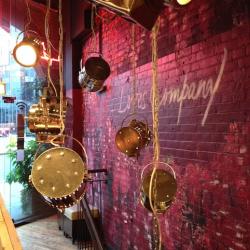 Everyone who's everyone serves a cocktail in Shoreditch. From Old Street to Brick Lane, you can't move for old fashioneds, espresso martinis, daiquiris and the rest. I imagine even the Bavarian Beerhouse on City Road knocks-up something in a tall glass, flavoured with Jägermeister. You might then expect that an invite to visit yet another cocktail bar was met with a fair pinch of apathy. But it was Friday, what better way to start the weekend than two free cocktails and a toasty? And boy, am I glad I did.
There are cocktails and then there are cocktails. The former are vast ice-filled tumblers, with a cheap spirit and a flat mixer, shaken to within an inch of their life. The latter are well crafted drinks, created by people who understand balance, taste and the use of subtle flavours. Loves Company definitely delivers the latter.
The Black & Blue was a punch of fruit, with enough zing from the rum to remind you that this wasn't just a delicious juice drink. The Cheeky Rita was far more subtle – flat, yet refreshing in a way you might not expect from something that looks quite so staggeringly lemon-yellow.
The real winner (although every cocktail tasted earned a tick and delivered a smile), Thank F**K it's Buttered, featured butter washed Zacapa rum; the process for this liqueur's creation spelt out by an animated barman who clearly loved his craft. Although almost cold to the point of frozen, the warmth and flavour of the butter permeated the drink. Perfect for a slow sip, while nibbling the accompanying homemade Nutella on toast.
As well as cocktails, the other ubiquity in Shoreditch is the coffee shop. Loves Company sits between a Starbucks and a trendy independent rival, just off the Old Street roundabout – they might even sell the stuff themselves. It's a slip of a venue. Four or possibly five tables nestled closely in a oddly-shaped angular room, looking out through a floor-to-ceiling window on to the pavement beyond and the bright lights of the traffic.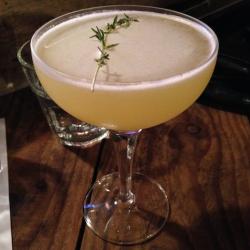 It's best to turn your attention inside to their carefully constructed light fittings and graffitied walls. You can't help craning your neck to the world outside though. There's just so much going on; what with post-work revellers, road-rage incidents, tramps, and everything else that Old Street cares to offer up. Downstairs, where one expects to find just a toilet or two, there's a room big enough for yet another Starbucks. It was closed on this particular Friday – a shame, but a good excuse to come back and sample the atmosphere when full.
A final mention has to go to the food – this is Foodepedia, after all. To say simple, would be an understatement – it's toast, or rather toasties. That said, they've done as much as is possible with such a humble food. A variety of options, but I'm a hungry boy, so it was the Notorious P.I.G. for me – pork, chilli jam, and Northumberland Baltic Cheese. While enough to dampen the effects of a cocktail or two, I wouldn't rely on this for dinner or you'll be crawling back home. Luckily, Shoreditch isn't lacking in options for a post-cocktail meal – not by half.