The Bar + Block Southwark occupies the street level of a newly built block tucked away off the start of the Cut, not far from Southwark tube. It's one of a chain serving quality steaks and burgers in a pleasant, commercially styled interior.
There are clusters of people sat on chunky wooden benches outside but we don't trust the later chill of the English summer, so we pass by them and head for the interior.
A lot of wood meets the eye, interspersed with a variety of inset tiles and those ubiquitous huge decorative lightbulbs.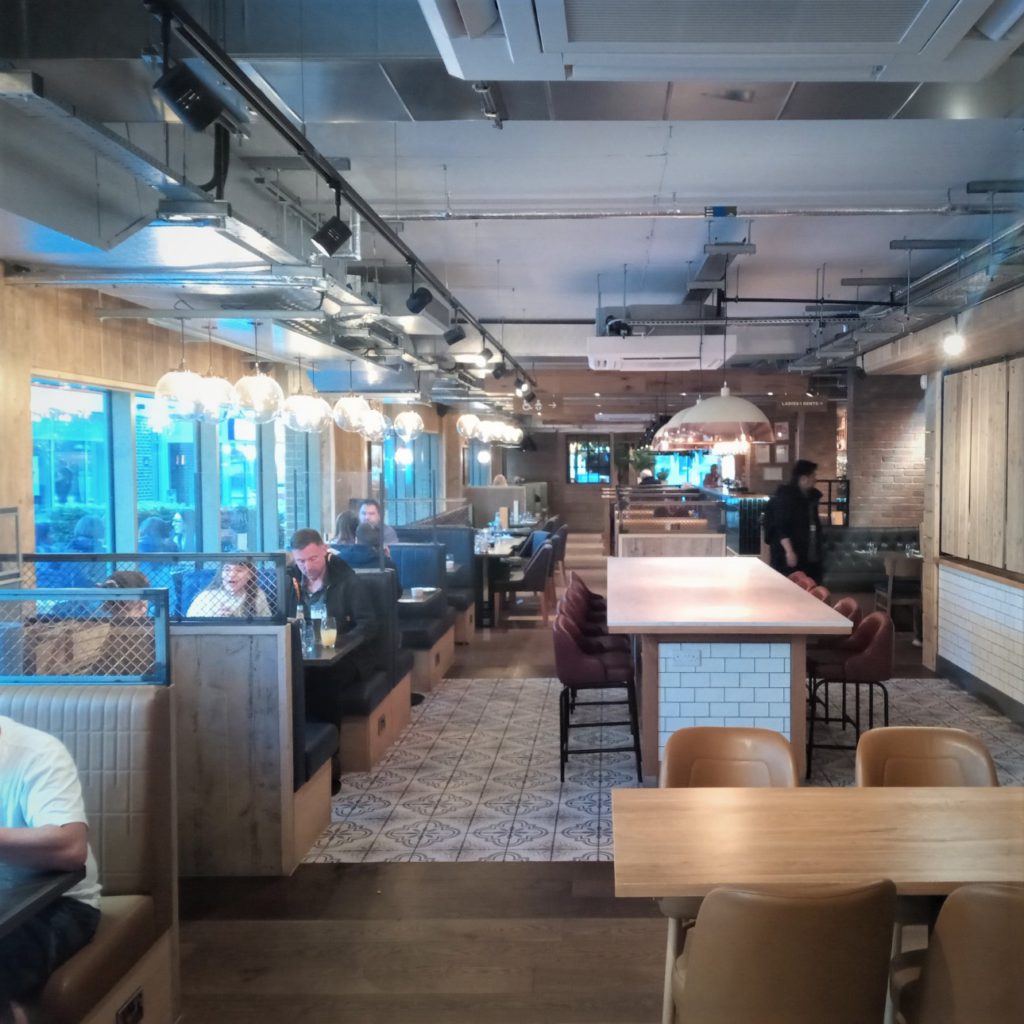 We pass through the usual mixture of bar seating, bench seating and open tables and slide into a booth near the open kitchen. I can see some impressively high stacked burgers on the pass, but I think we are here for the steaks.
Starters first though, and the large menu is busting with so many teasers; Mini Sausages, Korean BBQ Pork Ribs, Mac Cheese Bites, Trash Can Nachos, you name it. Or if you want to mix it all up, their piled high sharing blocks sound huge.
Too much for just us two, so in anticipation of the large hunks of meat to follow, we decide to keep it relatively light with Salt and Pepper Squid and vegan Cauliflower Wings.
These are tasty and lightly battered offerings, the delicious baby squid and rings served with fried chilli and garlic and creamy lemon and garlic mayo and the cauli florets in a crunchy parsley-seasoned batter come with a roasted red pepper and a nice and spicy harissa dip.
For the main event, we take our time to decide. The burgers are tempting, especially the signature handmade Mighty Block Burger which sounds outrageous with it 8oz of beef burger, oozy mature Cheddar, crispy onions, pulled beef brisket, pickled cucumber and burger sauce.
However, who can resist 30 day+ aged steaks? Their Steak Sampler is in the running as it serves up portions of Fillet, Sirloin and Rump, but I'm intrigued by the spiral cut 12oz Ribeye marinated in garlic and parsley, and served with the triple-cooked beef dripping chips.
My guest favours a simple 8oz Sirloin with skinny fries. You can get 'Dirty Fries' – topped with cheese sauce, Korean-style BBQ sauce, red chillies, spring onions and coriander, but this is a tad too dirty even for us.
There are loads of beers on tap or gins and cock (or mock)tails, but wine has to be the most natural partner for steak in my book, so we go for an Australian Berton Black Label Shiraz, hoping its full fruit flavours and spicy notes will stand up to the power of the meat.
The steaks are great – slightly charred exterior, tender and pink in the middle and delicious all over. The Ribeye's chimichurri sauce is a bit thin compared to the Sirloins Creamy Peppercorn, but you can choose from many others: Stroganoff, Mushroom, Red Wine Pancetta, Béarnaise or Blue Cheese according to your taste.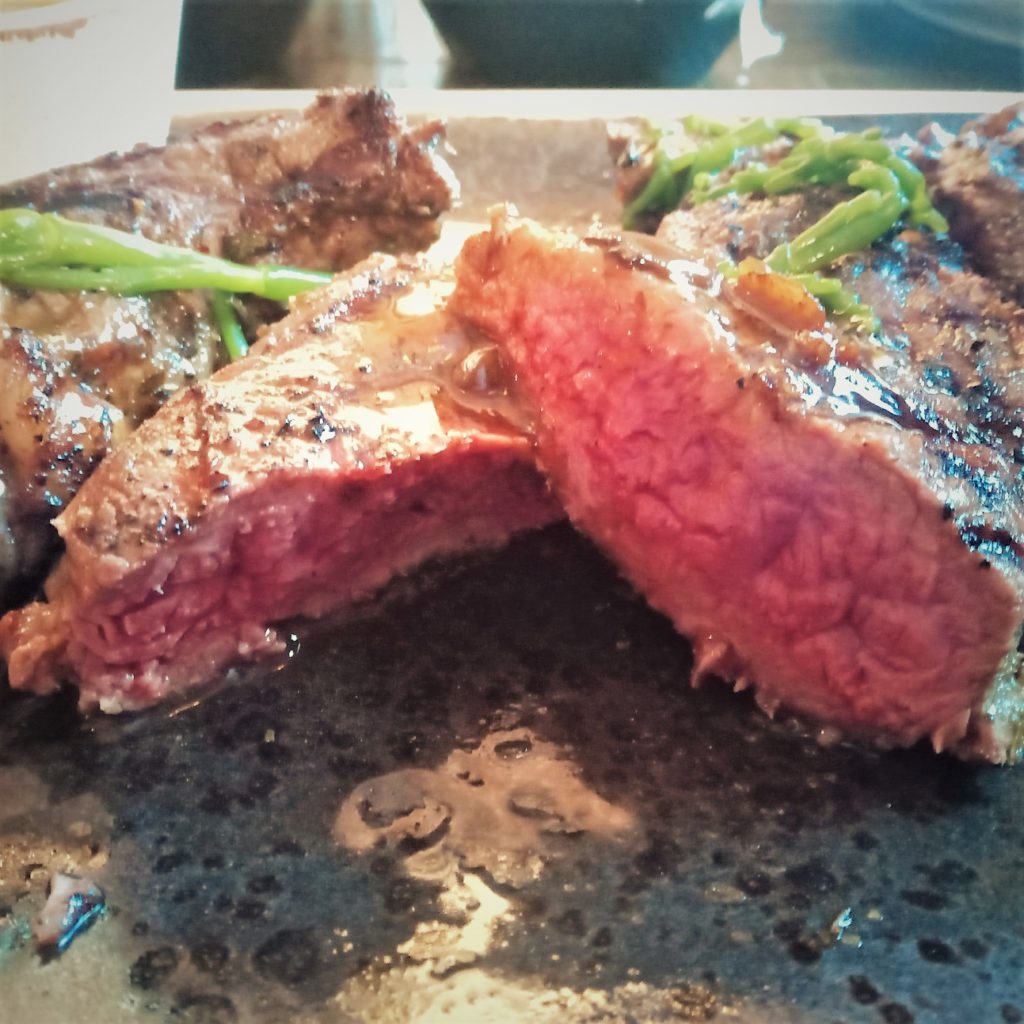 The beef dripping chunky chips and fries are excellent but we're getting full so have to ease off those in favour of the side of Beer-Battered Onion Rings we couldn't resist and the Rocket Parmesan Salad we ordered in order to feel there was something green involved. You can get Tenderstem Broccoli and Hollandaise, plus there are fish, veggie and a vegan Sloppy Joe Beyond Burger, so no need to worry if you have been dragged here by a herd of hungry carnivores.
Just room to nibble at a Chocolate Brownie and a Chocolate Churros Sundae, then we are truly stuffed. We've had a great time at Bar + Block, it's a slick Whitbread owned chain of style your own quality steaks with none of the traditional steakhouse stuffiness.
My only minor criticism of the whole experience is the bland R'n'Bish pop which oozed from the overhead speakers. Yes, maybe I'm just old, but my 19-year-old daughter was my dinner guest and her opinion on the piped music was distinctly 'Meh', so there.
@barandblocksouthwark
barandblock.southwarkstation@whitbread.com
Bar + Block , New Marlborough Yard, Ufford Street, London SE1 8LE.
Opening times: Mon-Thu 11.30am – 11pm / Fri-Sun 11.30am – Midnight
Breakfast serving times: Mon – Fri 6:30am – 10:30am / Weekends 7am – 11:00am