Sick of pub Sunday lunches, all stringy beef, oversized Yorkshires and sad veg swimming in gravy? At Smith's Bar & Grill it's a whole different dish.

We Brits still have a touching loyalty to our Sunday Roast, perhaps because next to The Full English it's the nearest thing we have to a national dish.

Certainly for me Sunday isn't Sunday without a roast; anything else leaves me feeling vaguely unsatisfied and disorientated. I once had pasta on a Sunday and for the next few days I was unsure of my own name and almost forgot to go to work.

And for many people it's the go to meal to eat out when entertaining parents, but not everyone wants to eat it in a pub.

So here is Smiths Bar & Grill  now doing a Sunday lunch in its oh-so-stylish location next to the canal in Paddington. An easy towpath walk away from North London's nicer areas, and for me it's not hard to get to as it's next to Paddington Station (albeit hard to find at first).

You feel a long way from London; there arconversation starting, modern buildings all around,  and cute colourful barges moored on the bank of the Grand Union Canal. Sit outside if it's fine weather, the area is covered, or cosy up indoors behind enormous light giving windows.

Most pubs of course don't offer all that much that's interesting as starters, after all they usually only have basic kitchens to work with, but Smith's can do better.

We had a  Salmon Tartare With Devon Crab served with avocado, crab, ikura and tobiko. All very fancy, slightly watery, very good looking, and Pan-fried Scallops with Pea puree, yuzu tobiko, shimeji mushroom.


Excellently cooked scallops, merely kissed by the pan heat, and pea puree is always a winner with scallops. The sharp yuzu did well against the sweet shellfish.

Cool starters overall, a little better performing on paper than on the plate, they sounded rather more exciting than they turned out to be.

The main event is the big test though, and so onto the roasts.

Roasted Boneless Pork Loin,  28-days Matured British Grass-fed Chateaubriand,  35-days Matured British Grass-fed Picanha, 10-days Matured Lamb Leg, and Mushroom Parcels for the vegetarians (roasted chestnuts mushrooms and field mushrooms wrapped in filo pastry served with truffle gravy, roasted potatoes, tender stem broccoli and maple syrup carrots, a Yorkshire pudding).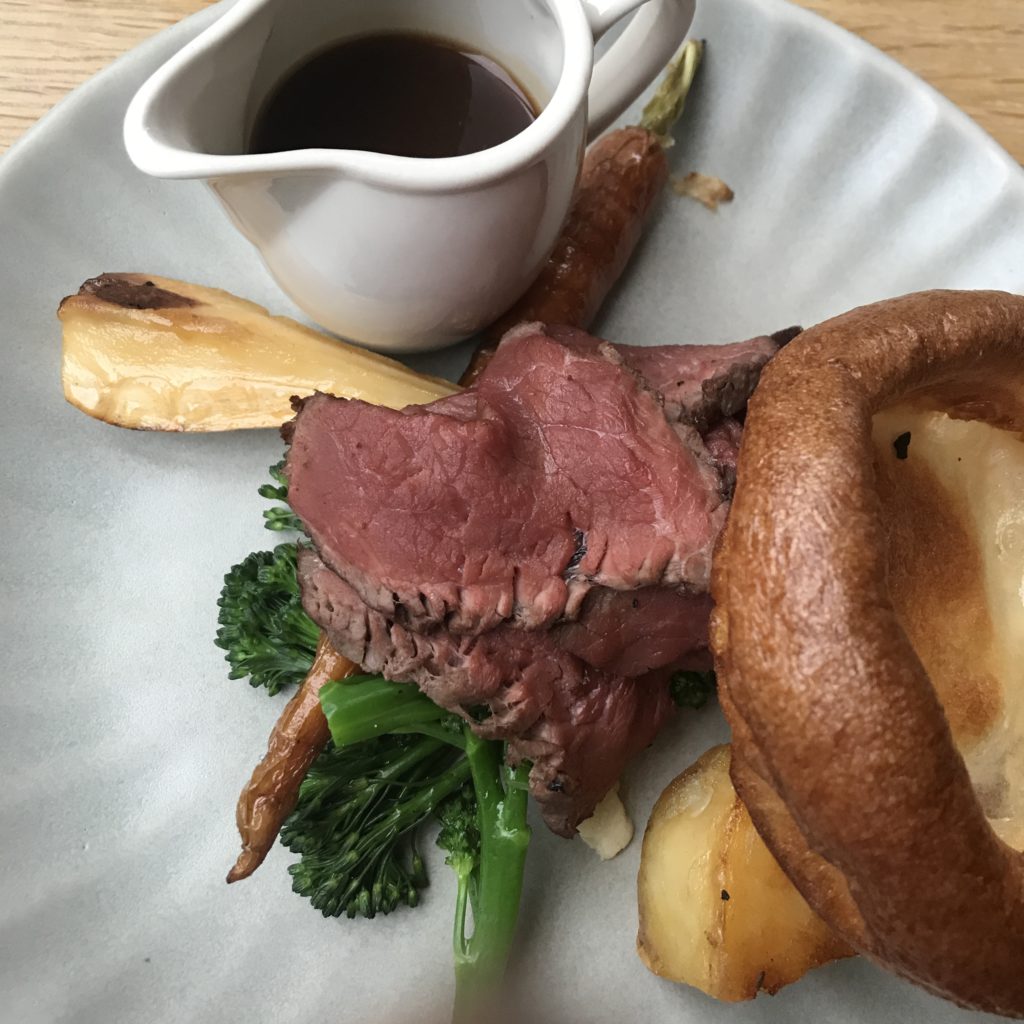 It has to be beef for us, we rarely have occasion to cook a big bit of beef at home. I go for the Picanha ( you don't see that often enough) and P the Chateaubriand.


What comes is impressive. A restrained plate with no big as yer hat Yorkshire pudding and no lake of gravy which I hate. In fact the gravy is served separately, which is perfect. And so is the food.

The Picanha is excellent, this cut is the most prized in Brazil and with good reason. Tender, and full of flavour that varies across the meat. It's served with honey roasted carrots that actually did taste of honey, some duck fat roasted potatoes that were pretty good.

I say that because it's very hard to make good roast potatoes in a restaurant (some people actually deep fry them!), and there was fresh and crisp tender stem broccoli, parsnips ( a bit out of season) and a proper Yorkshire pudding.

Couldn't' fault it, but then I didn't want to try. P's dish was also good; the chateaubriand as expected was excellent.

Things went a bit awry at this point. Despite all my efforts, short of firing off a distress flare, I could not get a dessert menu. When I finally did, I couldn't get anyone to take my order, so we left unsweetened. I suspect the kitchen had got into the weeds.

However this was the launch roast service, a stress test, and no doubt some kinks had been revealed, I don't doubt they've been fixed by now.

If you want to celebrate British cuisine, Sunday Lunch remains, and hopefully will always remain, the dish to do it with. And you don't have to worship it in the pub.


Tel: 0207-286-9458
25 Sheldon Square
Paddington, London,W2 6EY
Email