Sea Change, the eco-conscious wine brand, launch their brand new organic range just in time for bigger gatherings in the garden or picnics in the park with family and friends.
The range, with its Otter labels, introduces a lesser known red varietal, Bobal, and a classic white Chardonnay.
Both wines use organic grapes that grow in healthy soil, therefore producing heartier skins and high concentrations of those good-for-you antioxidants, including polyphenols and resveratrol to bring vibrancy to every drop.
What's more, the production process claims that only naturally occurring sulfites are present, so every sip is said to be gentler on the head and stomach than regular wine.  

Well okay, sounds good so we tried a bottle of The Organic Red – Sea Change Bobal (£13.99 RRP).

It comes from Valencia in Spain, a very hot region most years, and this is Sea Change's first organic red wine. Interestingly mine has a 'naked ' top with the cork exposed, although normally Sea Change wine is sustainably packaged, using renewable, plant-based closures around the corks.

The labels are made from grape waste and paper from certified sustainable forests.

The debate about real cork, versus synthetic, versus screw top is still ongoing. Real cork biodegrades naturally but it can lead to 1 in a 100 or so bottles being 'off'. Synthetic corks keep the wine well, but are made from polyethylene which does not biodegrade well, whilst screw tops are very efficient seals, easy to open and, being mostly metal, also biodegrade.

I prefer cork for its aesthetic and satisfying 'plop' when pulled.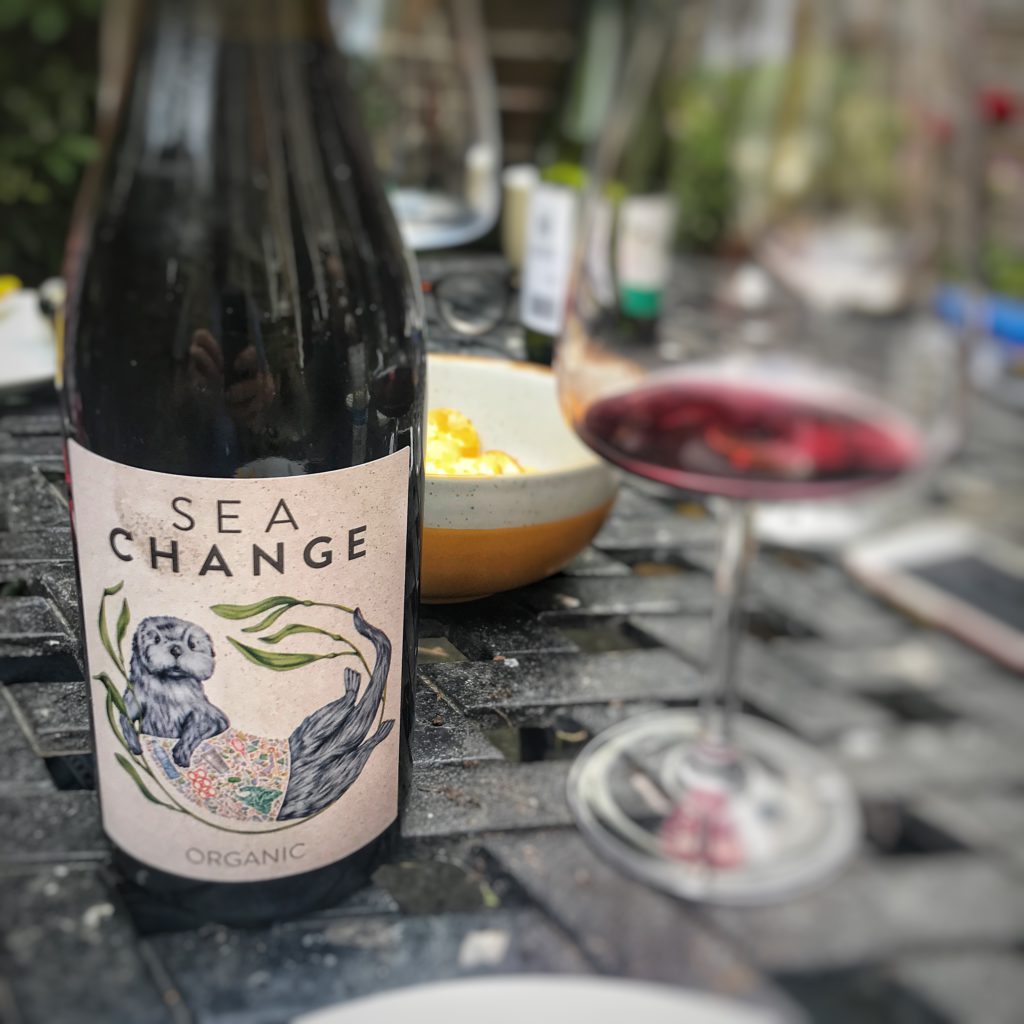 Out of the bottle comes a deep cherry red wine made from Bobal grapes grown to organic standards in the Venta del Moro vineyard in the Utiel Requena region of Spain, an area that's been making wine for centuries. Fun fact, Bobal comes from the Latin word 'bovale', meaning bull. The Bobal grape cluster apparently looks like a bull's head. 

Lots of red and black fruit notes, including cherry, raspberry and blackcurrant. Quite heavy on the tannins, but a good balance of tannins and acidity and a beautiful long finish.

We drank it in the garden with a plate of pork slow roasted with charcoal in the Weber, and crips ultra fresh allotment green beans and second-eatly potatoes
The Organic White – Sea Change Chardonnay (£13.99 RRP)
Sunshine in a glass, this organic white originates in Southern Spain, bringing a balanced combination of aromas and taste to create a light, yet fruity, wine. With nuances of white flowers on the nose, and citrus fruits on the palette, it has a refreshing acidity and a long-lasting finish, beautifully paired with a zingy summer salad, creamy pasta dishes and seafood.
As with all Sea Change Wines, both have minimal packaging, with the unnecessary plastic wrap covering removed from the neck of the bottle, and labels.
The Sea Change Organic Red, RRP £13.99 and Organic White, RRP £13.99, are available to buy online at www.seachangewine.com.


As with all Sea Change Wines, both have minimal packaging, with the unnecessary plastic wrap covering removed from the neck of the bottle, and labels.