Mandarin Oriental Hotel, 66 Knightsbridge

,

London

,

SW1X 7LA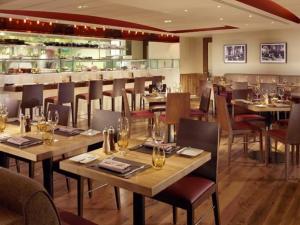 Typical isn't it, you wait years for some decent Bistro/Brasserie restaurants to open and then two come along at once.
Bistro Bruno Loubet is wowing them to the East and now Bar Boulud is packing them in the West, with food that is remarkably low-priced considering it's located next door to what may well be the highest priced flats in London.
Bar Boulud is in the basement of its host building, the Mandarin Oriental Hyde Park, soon to be graced with the presence of Heston Blumenthal's new London restaurant.
What this place was before is impossible to tell – the laundry rooms perhaps. It has been scraped out and refitted in a way that, for some reason, causes the word Harvester to keep popping up in my mind.
Maybe it's the smell of freshly sawn MDF, the sparkling newness of the faux lived-in decoration. Or maybe it's other people's bloody kids running around under my feet. It's a sacrilegious thought though because Daniel Boulud is one of the US's most celebrated restaurateurs, Gordon Ramsay sans le swearing.
Already critics have been raving, although that's probably all part of the backlash against the kind of food that the aforesaid Blumenthal has championed. Now people, who a year ago would have sneered at you loftily for daring to like a burger, are actually saying they prefer nothing better than meat in a bun.
I'm not on that burger bandwagon myself, even though Bar Boulud does indeed do burgers, very good ones apparently. If I fancy a burger then I make one at home, let's face it they aren't the most challenging things to cook up as long as you use good quality meat with a decent ratio of fat and keep an eye on the grill.
No what tempted me to Boulud's burger joint was the promise of 'made on the premises charcuterie' by Gilles Verot who is rumoured to turn out terrific terrines, powerfully good pates. Our shared plate for two was a bit light on quantity, but was spot on for quality.
Lapin de garrigue was a light slice of Provençal pulled rabbit with carrot, courgette and herbs, all bonded by a delicate jelly. The rabbit in particular was superb. Compote de joue de boeuf – shredded slow-braised beef cheek with onion confit and pistachio was deeply unctuous.
Gilles' Jambon de Paris -house made cooked ham – has won awards apparently and yet while being an excellent slice of ham it didn't light up my life, and neither did rosette de Lyon – dry cured French sausage. Again all very nice, but not actually outstanding.
The accompanying mustards we didn't touch; surely with artisan charcuterie you really don't need to go adding anything? But the celeriac remoulade was good. It's something you see in every French supermarket but which over here has something of a novelty appeal. The pickled vegetables that also accompanied had been trimmed and notched in the way you see in jars or done in demos in department stores, but unlike those versions they had proper crunch and the vinegar balanced and cut the fat of the terrines well. Served on a wooden board, Hello Harvester again, they did at least have sanitising paper between board and food. Wooden boards, to my mind, are very naff as well as cross contamination accidents waiting to happen.
So with the charcuterie eaten it was on to the mains. Coq au vin? Legs only? Ok full marks for authenticity but I'm a bit of a baby about brown meat. So I have the Volaille à l'ail printanier – roasted chicken breast with wild garlic, fingerling potatoes and artichokes. This has the bone in and the skin on and is totally great, all you expect from a bistro and then some. The spuds are no good at all though, probably because we're in the time of year between the rapidly failing stored potatoes and the late arrival of earlies.
Loup de mer au citron confit – grilled Atlantic sea bass, crushed potato, fennel, tomato, and preserved lemon dressing is a sizeable hunk of fish boasting a bouquet of flavours. The aniseed against the lemon is particularly impressive.
We should have had some cheese before dessert, as is la methode Francaise, but instead succumbed to sugar. Ile Flottante is an old dish and yet oxymoronically it never gets old, bringing out the kid in all of us. This was a fluffy egg white cloud 'floating 'on poached rhubarb and lemon curd. Tricky to get right, but rightly a classic.
Right now you can get a three course set lunch for £20, a loss-leading bargain that can't last long so hurry. The prices are right and the food is fine. When the room at Bar Boulud acquires some patina, some sense of not being a Lawrence Llewellyn-Bowen stage set due to be dismantled after the cameras have gone away, it may yet go on to become a much-loved fixture on the London dining scene.