23 St. James's Street London SW1A 1HA www.sakenohana.com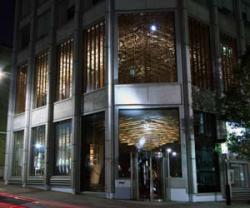 Literally meaning 'Sake Flower', Sake No Hana has had a recent facelift, transforming the ground floor entrance with a little cocktail bar. Gone are the Japanese Tatami tables which have made way for a more slick dining room, concentrating on normal seating with an open kitchen prep area poised for showmanship.
I am devotee of all things 'Alan Yau' – Godfather restaurateur-cum-visionary whose successes include Wagamama, Hakkasan, Yauatcha, Sake No Hana, Busaba Eathai, Cha Cha Moon and Italian Artisanal bakery Princi. The man is a genius and I love every single one of his creations, although no longer owned by Yau, Hakkasan is one of my all-time favourite restaurants in the world and it has also become a favourite of every single person I have ever taken there over years. However I have never been to Sake No Hana to date… I don't know why it never happened, but it just never happened.
You wouldn't expect a restaurant to have escalators inside, but they do at Sake No Hana and once at the top the dining room reminds me of a Swedish sauna with wood clad walls and flooring, all earth-Motherish and soothing. A vast contrast from the electric blue lights and dark black panelling of the slick, chic interior of Yau's Hakkasan design choice.
Service is impeccable and polished and the menu, courtesy of Chef Daisuke Hayashi, is several pages long but features lots of traditional dishes like 'Shabu Shabu' as well as the more common Robata grill selections and a huge selection of assorted Tempuras. We chose an assortment of dishes including seared razor clams with wasabi and soya, rib-beef tataki, braised aubergine with duck, seared tuna and green tea soba salad, Iberico pork and ribeye beef Shabu Shabu and a selection of sushi including the crunchy Alaskan snow crab maki rolls.
At first bite the razor clams are delicate and sweet and accompanying wasabi and soya dressing is pleasant and not overpowering in anyway. Beef tataki is as it should be with thinly sliced slivers of raw beef with a delicious sesame dressing and the thick ruby slices of seared tuna are a delight accompanied by green tea soba noodle salad, which is nice enough although the yoghurt like dressing seems a little out of place.
The braised aubergine with duck is a real triumph served in a small bowl with dainty cubes of aubergine in a deep and glossy sauce and sitting underneath them hides a little shredded duck and red bean paste. The duck has imparted a meaty rich flavour into the sauce and the whole thing is just beyond delicious.
I am very excited about the arrival of the Shabu Shabu, after my experience in Tokyo, getting to have it again in London will remind me of my wonderful trip around Japan last year. Top quality Iberico pork and ribeye beef, thinly sliced and assembled on a platter with some greens, including rocket. A bubbling cauldron of stock is placed on the table on top of a flame to keep the stock bubbling and hot.
I pile the vegetables and some of the meat into the broth and once cooked remove it ready for my first hit of taste explosion and I have to say I was a tad disappointed. The stock is the crux of this dish and although I could not fault the quality of ingredients, the stock was not packed with intense flavour and in fact was too bland to deliver the expected wow-factor, which at £37 a pop, can be disappointing.
The sushi, nigiri and maki rolls arrive and the superior quality of the fish is evident and each piece is expertly sliced and prepared, demonstrating the expert-hands of the in-house Sushi dons. What really impressed me was the freshness and incredible sweet flesh of the plump seared scallop nigiri and the deliciously crunchy Alaskan snow crab maki rolls. A rich green tea crème brulee and a gooey chocolate fondant give the meal a predictable but nevertheless enjoyable ending that leaves us very satisfied indeed.
Sake No Hana can definitely hold its own in St James. They are however, neither innovators nor trend-setters in the field of Japanese Cuisine and thankfully have steered well clear of the outdated trend 'fusion' dishes that seemed to sweep through pseudo-Japanese restaurants in London at one time. Instead, what they do offer is excellent sushi as well as some other great Japanese dishes and I really like what they are doing here.
Sake No Hana feels comfortable, intimate and not remotely pretentious like some of the other well known celeb-laden Japanese eateries (mentioning no names…) in the vicinity. So if you want great food, attentive service in an un-fussy environment than Sake No Hana is for you. But if WAG culture, drunk D-list celebrities and rude staff and generic service is what your after then head to Berkeley Street for your Sushi.