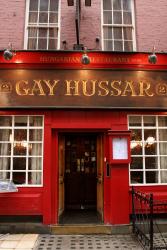 The current obsession with chasing new openings – blagging and blogging about it as if being the first to eat there were one of life's most critical emergencies – takes the spotlight away from a vast range of restaurants that have been teasing our tastebuds for generations.
The Gay Hussar, London's longest-standing Hungarian restaurant, opened its heavy wooden doors in 1953. Stuck in the past? Old fashioned? What's exciting about Hungarian food, anyway, you might be thinking, and it is easy to be stereotypical, assuming that if it isn't shiny and new – and if it's from a part of the world known mostly for sticky stodge with soupy cabbage – it isn't worth bothering with. Even its reputation as a hot-bed of political intrigue places it in the middle-class, middle-brow, middle-aged-spread category.
Its bright, pillarbox red façade could as easily put you off as draw you in. It looks, perhaps to some, as if it is a front for something a bit, well, bawdy. Do its doors lead to a fuggy room, a raucous crowd, and buxom wenches carrying trays of frothy beer and swaying to music played by an ancient accordionist? Yes, it is easy to make assumptions – and be entirely wrong.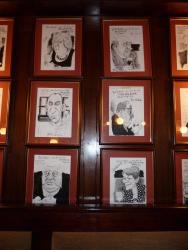 The dining room is quietly glamorous, its lights reflecting on the glass-fronted pictures. Hungarian traditions (the bright floral china) exist simply to create homely warmth and intimacy. One wood-panelled wall is filled, as everyone knows, with framed cartoons of politicians and media hacks who have dined there: Michael Portillo, Glenda Jackson, Michael Howard, Roy Hattersley, Jeremy Paxman, Andrew Neil … . Political memoirs stack the shelves. The effect is of history and headlines being made here, as they so often have.
And they continue. Today's news is another mix of past and present. The Gay Hussar has a new supplier of luxury foodstuffs – Urban Merchants, who work with small, family-owned farms across Hungary – including one produced using a technique discovered by the Egyptians around 2,500 BC: foie gras.
You can't be a foodie and squeamish about offal. You can be a foodie and concerned about extremes of animal welfare. The farmers who produce this controversial form of liver use a system of gavage (force-feeding) that ensures the geese are fed carefully, eliminating stress. With that issue out of the way, I tucked in Hungarian style – heartily.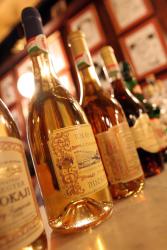 The portion was, as always here, generous. Slices were thick but mousse-like in texture, delicate in flavour. Tokaji and black truffle jelly added a sophisticated hint of musk. Caramelised onion, twisted prettily on top, brought sweetness that cut through the richness – a distinctly modern and artistic interpretation of the classic staple we call liver and onions. A glass of very chilled Tüzkö Tolna Traminer, full bodied and with an elegant hint of pear, suited it perfectly (£24.75 a bottle).
If you'd rather steer clear of food/ethic debates, I can recommend the chilled wild cherry soup. Covered in a foam the colour of pink blancmange (if you've been around long enough to know what that looks like) it was a light but full-flavoured summery concoction of sour cream, sour cherries and wine – traditionally served as a refresher for men working in the fields. I scraped the bowl dry.
Soup aside, this was a deliberately meat-indulgent evening. Next came another treat from Urban Merchants: smoked breast of goose, served with scholet (the Hungarian equivalent of cassoulet) and – yes! – red cabbage. If you'll forgive the near-pun, don't pigeonhole this dish. Generous, rich, filling – of course – but the assumptions end there. The goose (unnervingly the colour of gammon) was moist, tender and light. Goey, sticky scholet had a definite chilli kick which, with the sweetness of the cabbage and a delicate basket of crisp criss-cross potato, provided contrasting flavours and textures. It's the sort of masculine mixture served by Marco Pierre White and Gordon Ramsay when they were at the top of their game but with the emphasis on wholesome generosity rather than fine dining. I drank a spicy, full-bodied and alive red that held up against the dark richness of the goose: Frittman Kunsági Kékfrankos (£25.50 a bottle).
I'm not a puddings person but the fresh cherry strudel was warm and light, hinted with cinnamon, and on a mere film of flaky pastry – delicate enough not to sit heavily on my expanded stomach.
Urban Merchants knows its stuff. Run by Attila Jozsa whose career is an eclectic mix including being Anton Mosimann's sommelier, a spell at the Goring Hotel, running his own wine shop, a consultant to the RAC's country club Woodcote Park, and being a head chef in Canada. You can buy direct.
The Gay Hussar does what it does with authenticity and pride. The crowd was mixed – youngish couples on dates, regulars, suits, and friends seeking conviviality and finding it. I looked surreptitiously (aha, that's the reference to 'gander") for politicians but saw none; perhaps they were plotting in a private room. Service is appropriately attentive and comes with a subtle, non-intrusive, wittily wry commentary from restaurant manager John.
If you've chased new restaurants to keep up with the times, remember that old restaurants only survive if they move with the times. The Gay Hussar might have been around for nearly 60 years but it is not stuck in a past of our imagination. Be warned, though: the foie gras is available in limited quantities so don't be disappointed if it's not on the menu. There are about a dozen alternatives (and only one of them is marinated fillet of herring with soured cream).