19-23 Bethnal Green Rd,Shoreditch,London E1 6LA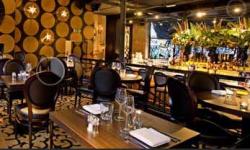 It isn't easy to fill venues on the industrial stretch of Bethnal Green road where Beach Blanket Babylon has hunkered down. Brick Lane's melee bristles five minutes away. Commercial Road's pencil moustache and cupcake brigade posture to the right. But despite the relative quiet on our Friday night visit, the punters seemed still to be loving it.
Their website says BBB is a mix of Boho chic, grand French country chateau and luxurious art deco style meets 60s and 70s opulence. Covers all the bases… indeed, this hangar-like space is clearly not yer average Swedish minimalist gaffe. I'd say it's overblown but judging by the custom – and the £2,450 Chateau Haut – Brion, Pessac – Leognan on the wine list – they're catering to demand. Between starters and mains a group of what looked like East End footballers – suited, looted, Champagne-fluted -descended on our neighbouring table. Loads of glammy couples flirted over dinner and gangs of dressed-up office gals gossiped while R&B happened in the background. It was fun, if the teeniest bit tacky, thought me and K in a snobbish way.
While I slurped my girly Porn Star Martini – the signature cocktail in so many ways – our starters landed. The crab and pea shoot salad with lime and chilli crème fraiche was beautifully summery and light with white tendrils of fresh crabmeat floating above the pea shoots. My pan-seared scallops on polenta with spinach puree and tomato coulis was high on ambition but lower on delivery. It looked great – as did all our dishes which incidentally were very generously portioned – but the scallops, sadly, were overcooked, the polenta similar and the green and red pastes a smidgeon more colour than flavour.
My belly pork with glazed apple and seasonal greens is apparently one of the most popular dishes and it served its job and was nicely filling. But the crackling was a bit gooey for me and that night I couldn't spot much glaze on the quartered apples. The greens were sweetly buttery though, and as usual with my luck, my companion's main was, to our minds, far superior: K had pan-fried fillet of sea bass with pine nuts, orange and marinated raisins, as the herb crusted rack of lamb – one of four grill dishes – was off that Friday. Garlic mash – yum. My Eton mess was as bloated and showy as many a public school alumnus, although in this case it tasted better than usual. The white chocolate pannacotta was lovely, compact and not too sweet.
So Beach Blanket Babylon, like its name, offers decadence-lined comfort. It has an impressive cocktail list and some well-priced and silly-priced wines. The portions were big but fine dining it's not – the food reminds me of the nicely-cooked, modern dinner your well-meaning friends would make – you know, loads of halved cherry tomatoes and fistfuls of salad leaf garnish. But it tries hard and is kinda fun, in that overblown way.