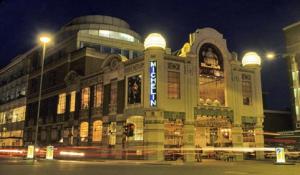 Michelin House , 81 Fulham Road, London SW3 6RD www.bibendum.co.uk
81 Fulham Road is an iconic address to students of the London restaurant scene. And is also beautiful- the second best building in London, after St. Pancras Station in my not very humble opinion.
It houses of course Bibendum Restaurant and Oyster Bar, synonymous forever with the truly great Simon Hopkinson- my favourite all time chef and food writer. And it was to here that I took two of my chefs as a treat for smashing our sales record.
And I wanted them to love it as much as I used to, back in the day when I had my first kidney, my first glass of pudding wine and my first realisation that eating was about more than just merely eating.
I planned to take them to the Oyster Bar, where we would spend a lazy late August balmy afternoon, sharing crustacea, swilling Picpoul de Pinet and people watching as the great and good of Kensington sashayed by. Sadly the weather was revolting- grey, cold and damp. That damp that you only get in London, permeating every crook and crevice. Dark clouds passed overhead, foreboding of gloom and impending disaster and I shivered as I gamely cycled up Fulham Road, a fine back spray soaking me from bum to scalp. Thank God EVERYONE was driving a Range Rover. Crispin, Camilla and Tarquin cruised past with Mummy offering me a metaphorical finger and a literal soaking.
But get there I did, half an hour early, seated myself in the atrium, ordered six oysters, a bottle of Picpoul, took out my paper and prepared to have some quality Luke time. But then it suddenly hit me that I was depressed. It was cold and draughty, the chair upon which I had hoisted my sodden rump was metallic and sharp and outside it was dark. At 2.15pm. And I thought that if The Girls arrived now they would just hate it and would shiver and be moody and the whole 'treat' vibe would be lost in a miasma of moaning.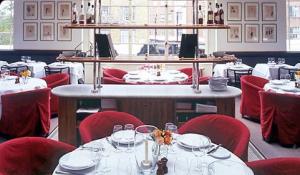 So I rang the restaurant upstairs and said 'Hello I'm eating oysters downstairs and its freezing and making me sad. Can I come and have lunch in your nice warm restaurant please?' And the man said 'Yes but you have to order in the next six minutes because the kitchen closes at 2.30.' So then I rang The Girls and they were tottering down Pelham Street in their glad rags and told them to totter faster than they had ever tottered before. And totter they did because at 2.29 exactly we were sitting it what I still think is the most beautiful dining room in London with a waiter literally breathing down our neck.
My risotto was exemplary. It was brown shrimp, lemon and cucumber. Which just screams of summer. And it did cheer me. And I learnt something new too. The peeled and cubed cucumber, stirred into the ooze at the last minute was revelatory – little pockets of cold juiciness, enlivening each mouthful of soft comforting rice. It was my best risotto of the year. And I like risotto. The Girls both had thai fish cakes which were fine but deeply unambitious in presentation and execution. Mains were alright too, I had calves liver (of course I did. I can't not. It's becoming a problem) in the 'Venetian Style'. If 'Venetian' is Venetian for vinegary and sweet then it was a perfect example. The six green beans on a separate plate with a slightly underdone but deliciously buttery, chicken stock-y fondant potato looked sadder than I had done downstairs. The Girls had sea bream and mussels and samphire which was fine.
Puddings were strangely a complete disaster. A strawberry mousse that I could have dribbled around the dining room and booted through the stained glass, a chocolate and hazlenut thing that looked like sick and had a disagreeable grainy texture that smacked of over cooked chocolate. And I had fruitcake 'Perdu' which I thought would be eggy bread, but instead of bread, fruitcake! Genius. Who wouldn't want that on a dull August afternoon in Kensington. But it was just a slice of sponge with no fruit or egg. It was……..fine.
We did have quite a lot of nice wine but I thought £210 for three people was a lot for what we had. I then got bullied into going to The Admiral Codrington where we had a nice gin and tonic and The Girls made me feel old and weary so I cycled home. In the rain and under those foreboding skies.