St John's Square86 -88Clerkenwell Road, London EC1M 5RJ www.thezetter.com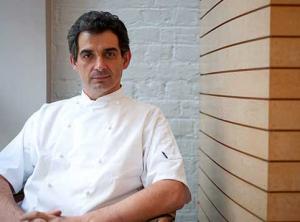 It was inevitable that Bruno Loubet's return to London after eight years in Australia would cause a stir. He was something of a darling on the scene in the nineties and early noughties, not to mention the fact he's Le Manoir and La Tante Claire alumni, and there's been a real buzz surrounding his chosen venue – the oh-so-cool Zetter hotel in Clerkenwell, which is just a stone's throw away from last year's big 'wow' opening – Bjorn van der Horst's Eastside Inn.
A better moment he couldn't have picked to open the eponymous bistro – as the capital's culinary landscape is finally clambering out of recession and the trend towards fun dining, rather than fine dining is visibly taking hold (see Polpo, Terroirs, and the forthcoming Bar Boloud and Koffmann's). His bustling, contemporary dining room, with its airy New York feel and unfussy, modern bistrot menu, seems to sit very well. But can he cut the mustard second time round?
I dined on a Thursday night at 8pm and it was absolutely heaving. Bread arrived in a small flower pot, for reasons we weren't too sure about, but it was very nice bread – fluffy and still warm. I'd been fantasising about the Mauricette snails and meatballs starter dish since the press release first landed through my letterbox, and made clear my intentions to order it before my chum could get a look in.
And boy did it live up to my expectations. The dish came with snails and meatballs of almost equal dimensions – both rich nuggets of deliciousness. The snails were tender and earthy, not even the slightest bit chewy or rubbery, and coupled perfectly with the little herby, savoury meatballs and silken sweet, smoky tomato sauce. In the middle of the plate was a quivering garlicy mushroom mousse (royale de champignon) that added a lovely creamy edge to the dish.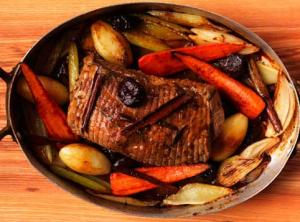 I was in raptures about the thing, and when my dining pal tried a forkful it stopped her almost totally in her tracks – her eyes widening in alarm at quite how amazing and powerful a flavour the food had. It was utterly divine, but not in an overly-opulent way – in a good, hearty, confident way. My friend's Lyonnaise salad was strewn with prime pieces of pig – a perfectly poached egg resplendent in the middle and oozing its buttery slick down onto the leaves and porky morsels. Loubet certainly doesn't tip-toe around the diner's tastebuds, and he's not in the least bit afraid to be bold with his flavours, which is very nice to see.
Confit lamb shoulder with white beans and harissa was more of the same – a beautiful soft, slow-cooked piece of meat packing a serious flavour punch and nicely paired with the preserved lemon. For dessert there was only one thing for it: the apple and rosemary millefeuille with chilled orange blossom sabayon. It may sound dainty. It wasn't – it was huge and sweet and creamy, and very nice, but just slightly too much after the rest of the meal. The sort of thing that you really outdo yourself to finish (it's not something you can resist, even if you are very full) but then feel less than pleased about later. That's more of a personal, glutinous shortcoming (I should've just had sorbet) though, than a criticism of the food.
I wasn't in town the first time round when Loubet was doing his thing at Bistro Bruno and L'Odeon, but I'll certainly join in with the 'welcome back' chorus. Just as long as the chef keeps busting out dishes like the Mauricette snails…