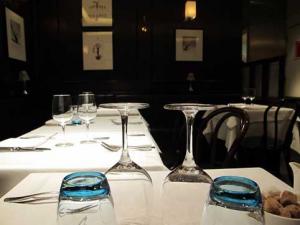 You'd think with all the fuss about Bar Boulud and Bistro Bruno Loubet opening that the concept of a restaurant that serves flavour-packed food, often to traditional recipes and to a keen price point, was somehow a new one. It's not of course, it's the basic function of a restaurant. All across France you'll find exactly that kind of place on every major road and in all the towns.
And so Chris Galvin and brother Jeff would be quietly patting themselves on the back for their prescience in opening Galvin Bistrot de Luxe in 2005, were it not for the fact that they were simply doing what they loved, not what was trendy. You can feel that love as you walk in off the unlovely street outside; the room welcomes you with the noise of people enjoying food, not worshipping it, and the waiters are scurrying about with Parisian precision bearing trays of food that you want to snatch and eat as they pass by.
The decor is right too, no cod -Parisan posters but the kind of linens, dark banquettes and bright, but not too bright, lighting that makes a place feel cosy. You slide behind your table alive with expectancy and eager to get going on the grub.
Some fine oysters always make a good warm up to any lunch; ours are plump and from Essex and have been opened well so as to retain all their briny juice. Galvin serves them with mini Chorizos, although in France you more often see grilled sausages, and this gives spicy contrast to the dish.
A Lasagne of Dorset crab in beurre nantaise is so simple it makes you wonder at the conceit of 'chefs' that use tweezers to lay out food on a plate. This is nothing more than a base of a perfectly cooked lasagne sheet, followed by a thick layer of sweet crab and then another layer of pasta on top with a chanterelle hat and all moated by the rich sauce. Every one of the individual flavours is distinct, the whole melds together perfectly. I mop up the plate with bread, the unmistakeable sign of a dish that's gone down well.
L has chicory with blue cheese and a dressing. It couldn't be more basic and yet it is immensely good -the fine cheese, the bitter chicory with its joyous crunch and the classic dressing all combine to get the palate craving for more. There's a lot of it and the waiter cheerfully suggests we keep it on the table to dip into – good idea, garcon.
Lamb Tagine is perhaps not totally authentic – it comes in one of those nice Emile Henry tagines, but I don't think it was cooked in one as the components are all separate. Nonetheless it's a cracking good dish with the lamb leaping off the bone. The juice of the couscous is fathoms deep in flavour, although I would have preferred a larger grain; this is a bit too light to absorb sufficient juice. The home made harissa is a million miles from the tube stuff; it has acidity as well as heat and texture. It doesn't mug the meat, it teases out extra flavours.
It's fish for L, a rather alarmingly bright green sauce surrounds a tender Icelandic cod and, after shielding her eyes while she digs in, she finds it very good. I wish I could tell you more but for once I wasn't paying attention being too busy sucking meat off my lamb bones. It was that kind of dish, even the root vegetables had taken on Cinderalla's clothes and become deeply alluring.
Rum Baba was a friendly monster, a light syrupy sponge packed with rum. And then the waiter added some more. It's the kind of dish that makes you release little squeaks and squeals of enjoyment, which you don't notice yourself making until you spot heads turning curiously in your direction and checking what's happening under your table. L had a panna cotta 'wobbly but in a nice way' she said finishing the lot before I had a chance to get in there.
The Galvins have an empire now and you can eat rather more 'refayned' versions of their dishes at La Chapelle, and I am sure they are worth the money. But for classic cooking in an environment that makes you want to linger for hours, you can't beat their original and best restaurant – Bistrot de Luxe.