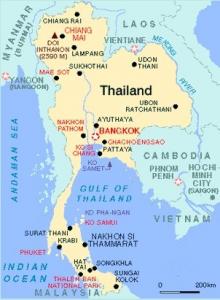 For one month only, Harrods joins forces with the Royal Thai Embassy to celebrate the delicious food and vibrant culture of Thailand. Until June 5th you can indulge in a whole host of Thai goodies with everything from fresh Thai produce like Holy Basil, Koi Choi flowers and banana leaves to delicious dishes ready to take home including glass noodle salad and Lobster in dry green curry. There are also some rather nifty sauces, seasonings, marinades and other products on the shelves courtesy of Blue Elephant restaurant group as well as Doi Chaan coffee which is stamped as 'Beyond Fair Trade' means the growers are the owners of the coffee company and farmers are paid beyond the 'Fair Trade' recommended price for the beans.
Some of the in-house restaurants including The Sea Grill, Rotisserie, Pizzeria and Georgian restaurant will be offering special Thai menus featuring mouth-watering dishes such as lemongrass marinated rack of lamb and fresh lime sea bass.
For those wanting to splurge, there are also Thai jewellery designers, silks, home furnishings and spa skincare products to indulge – But the food is the main attraction. There are live shows and activities taking place throughout the month including Thai dance and music, sugar work creations and the famously intricate fruit carving.
Harrods – 87-135 Brompton Road, Knightsbridge, London SW1X 7XL