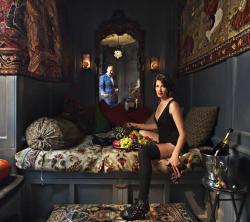 My first taste of the exclusive Soho private members club Blacks was when a snooty man with a stuck up nose said snottily that I was ringing the wrong doorbell to get in. So exclusive are these PMCs that it's impossible to find them. In fact, the entrance was in the cellar. But once in, what a charming bar that welcomed us with its blazing hearth.
Black's early Georgian architecture is beautiful. The townhouse's doddery dark wood floorboards, original mouldings, duck egg-coloured walls and threadbare Persian rugs – not to mention Turkish snugs and chaise longues piled with silk embroidered cushions –  create a home-from-home ideal for assignations or lazy, sexy embraces. Not that my real home is anything like this of course, except, perhaps in my Lottery dreams.
Owner Giuseppe Mascoli, an ex-pat Neapolitan entrepreneur of Franco Manca pizza fame in Brixton, has inherited a fascinating history in Blacks. It was built in 1732 by John Meard, a carpenter who worked alongside Christopher Wren at St Paul's Cathedral.  Later, it became a supper club for intellectuals frequented by the author Samuel Johnson and the painter Joshua Reynolds between 1764 and 1767.
And now? Well, the Sleb Chefs have got it, perhaps fitting given the foodie inclinations of proprietor Mascoli. At our lunch, we had Stevie Parle cooking our food, who, says the blurb, won Observer Food Monthly magazine's Young Chef of the Year award in 2010. Parle, who'd brought his young family in, has worked at the River Café and Petersham Nurseries too.
The group when we went was quite exclusive, it seemed like most were members or friends of members and the lunches get booked up quickly, apparently. We shared a table with a gang of management consultants – who else? – who were very convivial tablemates.
Having found a large table in the elegant front dining room, we started with Egyptian new season's garlic roast in butter with goat's curd and sourdough toast, three contrasting palates of the same hue – all gentle, sour and a good start. T, the vegetarian, was most pleased with this and was with most of our sharing plates, which were predominantly springlike veggie. Consider, for instance, our monk's beard with tomato. That was a green shooted vegetable slithered around breadcrumbs slathered in tomato which I found a little too tomato-y. The carrots and fennel with anchovy sauce was a perky surprise and the sea kale with brown butter and shrimps was simple, crunchy and sweet. Accompanying this was our Bourgogne Aligote, Champ Forey Vielles Vignes, 2007 which was short with a bit of a banana complication.
Spring sprung further with our main – a wonderful huge sharing platter of roasted young lamb leg with artichokes. What a profusion of artichokes! They were heavy, heavy, a fug of artichokes, choking every cranny of the platter and plate. Although they went well with the lamb, they did get everywhere – T even being offered artichoke frittata which, incidentally was tastier than I'd imagined it would be.
The lamb was delicious however – oily, plentiful and steeped in rosemary. There was perhaps a bit too much salt but I'm partial to salt anyway. Then we had rhubarb and brown butter tart, a tight, neatly flavoured little thing but crying out for ice cream, cream or some lubrication I felt.
T and I were left feeling sated but strangely unsated. How can WE become members of something like this without a nod and a wink and a wide wallet? Sometimes it's best not to be exposed to the things you'd like.
Open to Blacks' members and non-members alike, lunch is served from 1pm to 5pm, with tickets priced at £35 (excluding wine). Payment must be made in advance to confirm reservation. Bookings: 020 7734 5399 or email moira@blacksclub.com