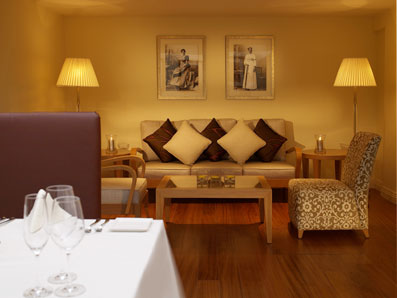 Pretty ornate and impressive is the entrance to the Bombay Brasserie. In fact I was so busy staring up at the wrought ironwork that I mistakenly turned right instead of left and found myself wandering off down an alleyway at the rear. A builder set me back on the right road into the bright and airy reception with its high ceiling, Edwardian fireplace and strong smell of fresh paint.
The builder and the paint are explained by the fact that the restaurant has only been open a few days following a large and no doubt expensive, refurbishment. The chairs look so spanking new that you (or at least I) rather regret wearing jeans and I discreetly check my rear for any protruding felt tip pens, chewing gum, cat hairs etc before sitting down. All around the walls memories of the previous interior line up – ancient black and white photos of Bombay life, mostly featuring well-fed Princes in their Raj heyday.
Today we're trying the Tiffin (lunch) menu, rather than the inevitably rather pricey a la carte. At £22 all in for the food, it's a sound price and as it's simply offered as Vegetarian and Non Veg options, it's equally simple to order. Tiffin is of course the classic lunchtime meal for Bombay workers ferried by dabbawallahs from homes to offices in tiered boxes. Millions of them pass through Bombay (yes, yes I know it's Mumbai now) every day.
Here, after a clean and simple starter of Green mango flavoured King prawns, the sour mango biting nicely, and well-spiced minced lamb kebabs, the Tiffin itself arrives. The silver trays are stacked just like classic Tiffin but mounted on a pole with legs. This way once it's stood on the table each separate tin swings out on its own like a fancy 1960s Sci Fi spaceship. This looks elegant and solves the usual problem of a table so covered in platters there's nowhere safe to put your Kingfisher down. There is of course a wine list, but I haven't yet subscribed to the idea that having wine with Indian food is anything but a waste of good grape.
The top dish is Black pepper chicken, which is actually as white as can be; white sauce on white meat with just the cracked black pepper violating the virginal colour scheme. It did however pack a proper chili naughtiness under its innocent surface. Soya bean mince with haricots was actually better than meat mince, the grains of soya seared to give a good texture that went well with the crispy green beans. The tempered yellow lentils had the right balance of sloppiness, with some lentils reduced to spicy soup and others still retaining a fine mealy texture. And of course there was fluffy rice and nan breads that had puffed up perfectly and boasted the burnt bits I like so much.
Dessert of Cardamom Ice cream and Crepes and carrot rolls were classily presented and weren't sickly sweet, as can often be the case. All in all the tiffin menu at the 'Braz' is precision modern, yet classic, Indian cooking as is to be expected from Hemant Oberoi, Executive Grand Chef of the Taj Mahal Palace and Tower who is overseeing for a few months. This affordable introduction to his elegant and sophisticated menu is well timed and should keep the lunchtime covers coming in.
Nick Harman