Brasserie Joël – Park Plaza Hotel, 200 Westminster Bridge Rd, London. SE1 7UT www.brasseriejoel.co.uk

Rising 14 storeys from a roundabout, Westminster's Park Plaza is rotund and reflective. Compared to the parliament opposite, which appears antique, it evokes a hulking spacecraft. Both are buildings so ample and obvious as to inspire a certain awe, although as with its predecessor, you might believe the looming plaza the obvious contender for the 'Carbuncle Cup'. But such is the competition's abundance, it didn't even warrant the shortlist…
I visited on opening night, gliding the escalator past a frieze which blazed like a delighted shepherd's sunset. Drowsy from an elongated day, I roamed the vast open plan bar, vainly seeking a familiar face. Instead I encountered a hurly-burly of business bods, inaccessible editors and writers on the rag trade. Between shots of sparkling sake, their blank eyes darted to my name badge – reader to a barcode – then straight to the next when I was deemed inessential. Regardless, the canapés were striking. Crafted by yet another recently returned French chef (Joël Antunes) tasty quail transcended the snubbing company. With finger food this fine, I decided to return for a civvy recce.
My dining companion missed his stop whilst tittering into his Private Eye. I passed the time with a house cocktail. Recommended by a sweet, freckled, Frenchie, 'Ros'Ly' (lychee, rose liqueur, Champagne) proved as welcome and soothing as her attentions. As I sipped the gentle aperitif, walls changed colour, gently approximating a sped dawn to dusk lapse. Looking like an actor fresh from filming 'Hustle', the maitre d' joked that he controlled the spectrum, currently set to reflect his mood.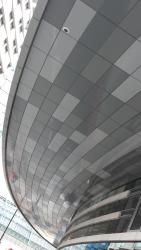 For a quirky cover charge, possibly engineered as a gesture towards recouping the hotel's £350m build, I munched green olives and warm bread truncheons, spread with squidgy beurre d'Isigny or smothered in Olivier & Co oil. As I grew hungrier, I resorted to nibbling sprigs from the potted sage, charmingly standing in for flowers. Sadly, neither could photosynthesise in this restfully dark space. Fitting in with the building's use of eco-friendly technologies was the final offering within the cover charge of lukewarm water, not once, but triple filtered.
Companion arrived, we segued into starters. Our waitress was so well trained that she laughed when I suggested that my French rabbit salad acquainted friends, lapin and legume. Propped in a neat stack, the lean, turkey white terrine was first rate, although I would have liked a lighter hand with the vinaigrette. My friend's pigs head terrine could, he said, free from irony, 'do with more head'. Apparently the morsels moulded in aspic bounced from his teeth a little too freely. Incidentally, my favourite version of this dish involves a disc of brain (The Cadogan, King's Road). I suggest Joël visits.
Whilst named after a lilting Italian composer, Tournedos Rossini were eaten to the somnambulistic Chet Baker. Again, favouring the early '90's stack approach, the dish appeared almost a breadless, but high brow hamburger. Regardless, the mignon was moreish, topped with a tactile meaty mattress of foie gras. Madeira and truffle flecked sauce was as compellingly sensuously fragrant and effective as designer pheromone. My companion's nobbly sweetbreads were 'perfectly cooked', proving enjoyable despite him having to effect a menacing stabbing maneouvre to extract them from a clumsy Le Creuset pot.
Alongside, from an artrisan producer of wine and hazelnuts, '08 Dolcetto d'Alba, Cru Serraboella, Cigliuti slid smoothly – a purple tinged draft of blueberry and violet cream. Indeed, the list offers reasonable value for a four star, capital hotel. Prices start at £16 per bottle/£4 a glass. Of note, Château Pichon Baron '01 is £125. '08 Hampshire's Wickham (£22) appeases the hotel's eco conscience. Several US bins will appeal to US travellers, including '07 Au Bon Climat Pinot Noir (£49). And for the wine boars, there's always the yarn-marinated Lebanese, '01 Château Musar (£52).
Finally, Joël's jaffa cake was a brave statement, being an unconventional and unremittingly fine approximation in flavour but wilfully, not appearance to the branded biscuit like caked confectionery. But in his estimation, my companion's rum Baba failed because it wryly omitted an 'obligatory' glacé cherry.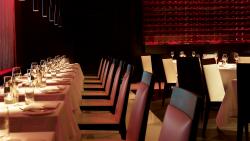 Made much nicer by better company than on opening night, a post dinner stroll into the bar revealed a punk-ish band. We had defied their lyrics whilst eating pudding: 'don't take sweets from strangers…'
Downstairs, coaches belched a cargo of conference delegates and creased tourists into the tall atrium. Upstairs, Brasserie Joël continued to serve an authored approach. Rather than a mono-crowd of monotonous expense diners, it appeared popular with one of the widest ranging clienteles (including families) which I have seen in a London restaurant for some time. Flailing at easily made aesthetic criticisms, this carbuncle's cup should continue to brim…