I've never really understood the whole Indian summer thing. When a season is past its sell-by date, it should have the decency to bow out gracefully and with an immediate temperature change. As summer passes in to autumn, the recent mercury readings show that it's September in name alone. It is on one of these blissfully warm Indian summer evenings that I amble down to Brompton Road. If you've read my previous articles, you'll know that I don't often find myself this side of Hyde Park, but there is no where better to enjoy balmy breezes than sat outside a trendy bistro or brasserie.
Brompton Asian Brasserie has been open about 4 months, and for a Tuesday night is heaving. It is the second restaurant opened by Russia's most successful restaurateur, Arkady Novikov, the man behind 60 restaurants in Moscow and the rise of fine dining in post-Soviet society. Brompton Asian Brasserie is his second venture in London, and in a week which has seen comments credited to party planner Putin about Oligarchs in Chelsea, the restaurant seems like it's settling in nicely.
Thanks to its excellent location (a mere minute from the spectacular Brompton Oratory, Harrods gleams in the opposite direction) the people spotting is fantastic – at the next table American bankers talk business with their English counterparts, and outside I spy a bright blue Lamborghini speeding towards the promised land (or in this case, Knightsbridge.)
Inside, there is a good menu and a nice wine list. The staff are friendly, very helpful, and full of good recommendations particularly when it comes to the decently sized wine list. You can select numerous dishes from across Asia, which means that you can go for dim-sum, noodles, sushi and even, strangely enough considering the name…European starters. Hmm. Wisely we ignored those, and started with the Salt & Pepper Baby Squid with Sweet Soya & Ginger Dressing, which were, when dipped in the sauce, delicious and light, we sipped a glass of Sancerre "Jeunes Vignes", Henry Burgeois (Loire, France – 2011) and had a look around.
The upstairs is a good size, lots of larger tables for parties of 5 and above, and decorated in a bland, pan-Asian style with dim lights. Across the room we noticed what looked to be a fish bar – upon closer inspection this is exactly what is was, and the floor manager told me that the restaurant also operates a robata grill which comes in very handy when preparing the Hangar steak that is on the menu.
Deciding to stick to delicacies found only under the sea, we sauntered over to take a look at the catch of the day – on this balmy Tuesday there were several; king prawns, scallops and sea bass. Deciding that the diet be damned (and looking with eyes that were for once in total agreement with my stomach,) we went for scallops and we shared half a decently sized sea bass.
The scallops came beautifully presented and tasted fantastic – we only had one each but could have even hundreds more. It tasted exactly as seafood should, as though you could have pulled it out of the ocean only seconds before. Following that, halved a juicy sea bass which was served with steamed vegetables, and finished in minu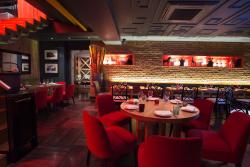 tes. To finish we try a selection of sorbets (mango and passion fruit ones work as excellent palette cleansers as well as a fruity way to keep cool) as well as a mango parfait.
So, with bellies full and content we take stock of the Brompton Asian Brasserie. As a restaurant it fulfils its function perfectly, and in terms of price is surprisingly decent for South Ken/Knightsbridge. The decor is a little boring upstairs, but who cares when the scallops are so good? At the end of the meal I am led downstairs (I didn't know there was a downstairs) to see their basement dining area.
Decorated in a kind of Asian neon-noir style, it is sleek and attractively dim. The manager proudly tells me that there is a DJ present on Fridays and over the weekend, playing from 19:00 to entertain guests while they swill from cocktails, nibbles or dinner as well as a separate menu comprising of 10 dishes for £20 a head.
The ground floor is a hybrid of robata grills and seafood specials and the basement is a blend of lounge and light dinners. All in all, the value and excellent food definitely make this brasserie a contender for a place to host your post Harrods feast, and the basement seems a good bet if you fancy a cocktail and a trendy crowd. Make sure you talk to the lovely wait staff, try the specials and enjoy!