Buddha Bar, 8 Victoria Embankment, London WC2R 2AB. www.buddhabar-london.com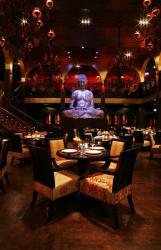 Isn't the concept of a Buddha Bar an oxymoron? I asked S, my dinner companion and a lifelong follower of Buddha's teachings. 'Isn't that where the footballers go?" she yelped. Such is the power of this magnificent, opulent temple to lavish and excess. The Buddha Bar opened in August beneath Waterloo Bridge, has sister sites in Paris, Sao Paulo and Dubai. On first entry, you whoosh down Southern Belle stairs into a shadowy cavern of ochre, gold and timber, part 1930s Shanghai opium den, part Thai temple and part, inevitably, tacky bar and nightclub.
There are staff at every corner to greet you. French chansons, ambient and old Hindi film music is a suitable backdrop to a place serving 'pan-Asian" food. Although, you get the impression that the restaurant – at the giant model of Buddha's feet – is subservient to the mezzanine bar above which already has a humming crowd at 7pm on a Monday.
First, it ain't that cheap here but it ain't posh either. It's for the aspirational and best if you want to impress. You can pay £2,300 for a 1978 Chateau Petrus, at least a tenner a cocktail and £20 for some starters. But it's a spectacular venue, with its railway arches and Buddhist decoration – so who comes within? Kate Winslett and Big Brother have staged private parties here, apparently, and Chelsea football club and Lionel Ritchie have parked their boots below the tables too. And if you're arriving late, you need to call ahead to get permission to enter- a crowd control thing, they tell me.
Once we'd acclimatised, we chose the tasting menu and a bit off the a la carte. But there is a whole page of sushi to choose from which you can eat upstairs in the bar. And then it came, and how it poured down, dish after dish like a blessing from God. S loved how the smokiness of the smoked scallops with coriander dressing enhanced their subtlety, and they were well-prepared. The spicy tuna tartar with avocado and pink grapefruit was a winner; fresh, bold, simple flavours in a love tumble combination. And the Buddha Bar chicken salad, that sounded interminably boring, was surprisingly good. The crispy baby squid fried in coriander with Thai basil tartar was indeed, crisply battered over gentle flesh but I struggled to discern any coriander. Similarly, the pan-fried langoustines and Foie gras with apple balsamic were OK, nice idea, but the Foie gras had no focus to the flavour, a bit too splayed.
After the torrent of starters, I was full. I wanted to go home. Apparently, doggy bags are now fashionable – another yawn from recession-weary journalists. I've been asking for doggy bags since I first started eating out because I was brought up not to waste food. However, this request has never caused such a minor sensation as it did here – obviously the aspirational don't like to look greedy. Waitress pow-wowed with waitress pow-wowed with manager, discussion, raised eyebrows until I was told, 'we don't do that here". 'But there's too much!" I cried, despairing of the mounting piles of dishes laid before me – that, yes, I myself had ordered gannet-style. And again – what a to-do when I asked for a break between the relentless courses! They had to seek permission amid the confusion it caused.
So we had the mains but these didn't compare, partly, perhaps because of the previous onslaught but S – still avidly hungry – agreed they were lacklustre. Spicy lamb rack with roast squash and Thai yoghurt was well-done in its execution of constituent parts but didn't work as a concept. Perhaps it's good for Western-palate lamb chops eaters who don't want more than a nod to anything exotic – lamb chops with thin yoghurt was what we got. And we had some Thai chicken curry with rice that tasted more like BBQ chicken. However, the dessert was lovely, a cute little chocolate soup beautifully infused with basil with a bullet of cheeky cheesecake. I had a good glass of 2006 Monbazallic port to finish. Overall, we agreed, that even if some tastes didn't work, the preparation was pretty professional. As we bowed down – more from bellyloading than religious devotion – we saw the place had filled with suits and the sweet smell of money wafted down from the mezzanine. We don't know what Buddha wudda thought, but we can guess.