'Equilibrium' restaurant at Fawsley Hall – Fawsley near Daventry, NN11 3BA Tel 01327 892 000 www.fawsleyhall.com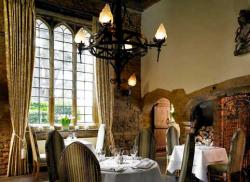 Yearling restaurant 'Equilibrium' is part of Fawsley Hall set in 2,000 acres of parkland, tucked away in the rolling green hills of Northamptonshire. Dating back to the 7th century, this beautiful and historic country house once welcomed a very special guest in the shape of Queen Elizabeth I in 1575 and her suite has now been named the '1575" to commemorate the visit.
Head Chef of Equilibrium, Nigel Godwin, is one of those rare breeds of Chef that is self taught. If there is an ounce of doubt rattling around in your head about the concept of a 'Self-taught' Chef, then perhaps its worth remembering that Chef Patron of the 2nd best restaurant in the world, our very own Heston Blumenthal, is also a self taught talent. Having previously worked at Harveys, The Walnut Tree and Cliveden, Godwin brings a wealth of experience to Fawsley, culminating in his very own signature style of modern British cooking.
Arriving for dinner, we are seated in the Great Hall where drinks are served accompanied by a paper cone filled with quirky little warm choux pastry cheese puffs. As I slouch deeper into the sofa, I find pleasure in a giant Spanish cookery book, which coupled with the warmth of the stunning fireplace, makes me more and more reluctant to be removed from my comfortable spot. Just as I get comfy, our host approaches to escort us to our table in the restaurant. The room is tastefully decorated in muted tones, with immaculate white cloths adorning each table and what can only be described as the most abstract napkin holders (imported from Chicago, we're told) I have ever seen.
An 'Amuse Bouche' of Butternut squash Veloute with a delicate cumin foam is smooth and warming and the perfect prelude to our meal. My companion plumps for the pigeon with pickled pear, hazelnuts and its own parfait and 'tea' infusion whilst I choose the 24-hour slow cooked suckling pig with terrine, crackling, sausage roll and Piccalilli. Sneaking a mouthful of the pigeon, it is cooked to perfection and comes with dainty little mini brioche toasts for the velvety smooth pigeon parfait. The 'tea' is in fact a consommé and a delicious concentrate of the gamey rich flavour of the pigeon. My pork doesn't disappoint either, a delicate little terrine layered with various tastes and textures of juicy suckling pig accompanied by barely recognisable, wafer thin slivers of crisp and crunchy pork crackling and the tiniest little sausage roll, all superb.
A middle course of a lightly battered and crisp frog's leg on a bed of pea puree is served. A perfectly crisp coating surrounds succulent and sweet meat well matched with the puree it rests on. I choose the 40 day hung fillet of beef served with wild mushrooms, shallot puree and braised beef cheek for mains and my companion chooses John Dory with clams, spiced scallops and cauliflower and raisins. I am a tad worried about 'too many ingredients' on my companion's main course, but stealing a few bites, it all works beautifully and actually makes for a very satisfying dish. Having always been more of a carnivore, as soon as I spy my beef, I know I have chosen the best dish. Perfectly cooked melt-in-the-mouth meat, very nearly provoked a 'Harry-met-Sally' moment of ecstasy. Accompanied by a delicate and sweet puree of shallots and wonderfully aromatic and flavoursome wild mushrooms, this beef is the stuff of legends.
Reluctant to eat another bite, but unable to resist further enjoyment, I opt for the Chocolate Soufflé and milk ice cream (which happens to be my favourite ice cream) and my companion, who is clearly the more daring one of the two of us this evening, selects strawberry and custard with black olive and Pedro Ximenez sherry sponge. Black olive? Yes, black olive…. Let us be patient before we pass judgement. The magnificent Soufflé arrives, with a tall proud body rising high above its ramekin base.
With my spoon, I puncture the delicate airy surface delving deep into the heart of the Soufflé and draw out what can only be described as a monstrous spoonful of the dessert and inhale it. I close my eyes, sit back and savour the moment, inviting the strangest look from my companion before managing to utter the words 'Best… Soufflé… ever". Damn. This means I have to give him a taste of it, which I do, albeit a tad reluctantly and he agrees it is pretty special.
His dessert not quite leaving the same impression as mine, I sneak a bite and it is still very nice, although I'm really not sure where the black olive paste fits in, still, it's not offensive in anyway. Having said that, it was certainly no match for my Chocolate Soufflé and the creamy milk ice cream accompaniment. It was (without a shadow of a doubt) the very best Soufflé of any variety that I have ever had in my entire life. Dare I say it, it was even better than Pierre Koffmann's infamous signature dessert of Pistachio Soufflé that I'd coincidentally eaten the previous night.
Equilibrium shows great potential for joining the ranks of the much-coveted Michelin star brigade. The food is distinctly British and not modern in the annoying way that most restaurants try to be, with excessively fussy frills and touches. Instead it offers British food that is traditional in many ways, yet contemporary, innovative and incredibly comforting too. I really like the direction that this menu has been taken in, embracing provenance and seasonality, taking good ingredients and creating something extra special with them. Offering just three choices in every course may seem a tad limited, but it makes a refreshing change from the overly complicated myriad of dishes that many other restaurants seem to offer these days.
My hats off to Chef Godwin for his brave choice to strip the menu to handful of great dishes, which were both delicious and perfectly executed and not to forget that some serious praise and acknowledgement is also due for his pastry chef, as clearly together they make quite the dynamic duo.