I remember being in Brussels about 10 years ago around Easter time and I'd just ordered Mussels for lunch at this little Bistro in town. The manager came over to me and said 'Mussels? NO!" and began to educate me in French at full volume, much to my embarrassment, about how Mussels should only be eaten in months with 'Brrrrrr" in them, as this is when they are at their best. 'Septembrrrrrre, Octobrrrrrre, Novembrrrrrre, Decembrrrrrre".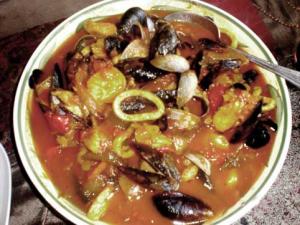 Needless to say, it was a lesson I have never forgotten. As Mussels are best at this time, I wanted to bring you a lovely dish from Spain that has all the warmth and vibrancy of summer with bags of flavour and an abundance of seafood which always reminds me on being on holiday. As the weather gets colder and greyer, this is just the type of dish that gives me the much-needed 'sunshine' to get me through the week. The best part about this dish, is you can use any kind of fish you like, it is so adaptable and great no matter what you add to it.
(Serves 4)
Ingredients
1 kilo of Mussels
2 handfuls of Clams
1 handful of Calamari squid rings
8-12 Tiger prawns (shell on or off, your choice)
150g Monkfish (or any chunky whitefish you like) cut into fat chunks
6-8 Scallops (with or without roe)
1 whole bulb of garlic (I actually use 2, as I love lots of it)
8 small Shallots (or 4 of the long French shallots or medium white onions) chopped into big chunks and I also added some onions, peeled and simply quartered. You
1 teaspoon of dried thyme
1 heaped teaspoons of 'La Chinata' Sweet Smoked Paprika
2 heaped teaspoons of Maldon Sea Salt (crushed between your fingers)
Generous seasoning of black pepper
2 generous pinches of Saffron
1 x 700g jar of Passata (Italian sieved tomato sauce)
1 x 400g tin of good quality tomatoes (like San Marzano)
3 tablespoons of olive oil
Method
About 2 hours before you want to start cooking, soak your mussels and clams in a big bowl of cold water with lots of sea salt in it. This will make them believe they are in the sea and they will open and close, thus expelling any sand or grit out into the water. Just before use, pull the beards off the mussels and give them a little scrub with a brush.
Using the biggest cooking pot you can find, over a medium-high heat quickly sauté the onions, garlic and thyme in olive oil until golden brown, but do not allow them to burn. Sprinkle the saffron (crushing it as you do so) into the pan, add the smoked paprika, salt and pepper and mix it until all seasonings are well mixed in, then pour in the passata and tinned tomatoes and stir well. Reduce the heat to a low temperature and allow the sauce to cook slowly and intensify over a very gentle heat. (I did this for 2 hours) If the sauce reduces too much, you can always add a little water or an extra tin of tomatoes to increase the liquid volume, which you will need for cooking the seafood in.
Once the sauce has been cooking for 2 hours, taste it to ensure the seasoning suits your preference and begin to add your seafood starting with the Mussels and Clams, giving them a good stir and covering the pan with a lid (for about 3 minutes) to allow them to steam open. Then add the rest of the fish in no particular order, with the exception of the squid and scallops which should be added last to prevent them from being overcooked. Allow all the seafood to cook for about 5 minutes on an increased medium-high heat and then turn the heat off and remove the pan from the hob.
Dish up into a big flat bowl (if you have) and sprinkle with a bit of chopped flat leaf parsley and serve with chunky rustic bread of your choice. Delicious.