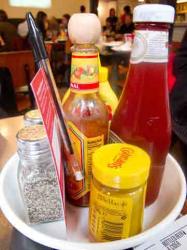 With the Twitter-verse resounding to the sound of thousands of twenty-somethings obsessing about gourmet burgers, is there a place for the humble high street purveyor of patties in a bun?
Well yes, unless a certain High Street chain has gone out of business and I haven't noticed. The underclass's desire for meals that don't require cutlery, that are predictable in taste and can be scarfed down before their status dog gets bored of being tied up outside and begins biting lumps out of passers-by, is still strong.
The market that places like Byron fills though is the one generated by middle-class kids who when young ate in the original chains, much to their parents' disapproval, but have now reached the post-college period of being a bit shy of being seen in such places. They still can't quell their addiction to undemanding fuel-food, but they want to know what's in the burger and that it won't all suddenly kick off at the counter before they've finished eating it.
Byron has been around a few years now and has ridden out the phase that saw other would be upper-deck burger joints bite the dust. It now has a firm hold on its market and is going strong.
This month, and for just this month, they're offering the Big D, an 8oz burger made from quality chuck sourced from Scotland then ground and pressed together for them at Knightsbridge butcher O'Shea's.
Now, as you may have guessed, I am a burger denier as in general I find them boring, but as lunch food when I won't be eating dinner, then I can be tempted to try.
The Wardour Street Byron is what used to be the Intrepid Fox pub, a place that in the glory days of punk was the roadies' watering hole after setting up at the nearby Marquee Club. It was also the place where those of us on press passes to the Marquee would drink during the support band as it was a hell of a lot cheaper than the bar.
It's not as I remember it. Everything's gone, including the plaster off the walls as well as the ceiling itself. Industrial chic rules and instead of punks the place is full of bearded boys with socks on their heads. Black and white vintage soft porn is projected onto a screen – nothing nasty but probably scandalous at the time it was made – and it's warm and cosy.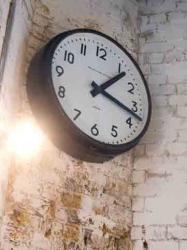 J has a vanilla milkshake, I warn him that he won't have room for his 8oz burger but he insists and sucks it up greedily when it arrives. I have a beer so cold my fingers freeze to the glass. So far, so good.
'The Big D takes a bit longer to cook,' said the waiter, which is fair enough, although you wouldn't think it took that much longer really. He didn't ask us how we wanted it cooked however, which turned out to be a slight mistake.
When they did arrive the Big Ds looked good though, the bun rather dwarfing the burger but the right kind of bun – not some pappy sweet brioche, but a white bread bun toasted on the flat to give it structure and texture and repel the juices a bit. This latter feature is important if the bun/burger combination isn't to meld together into mush the instant you pick it up.
The wally, or gherkin, was on the side so I quickly put it in. Burgers need crunch in the centre and I love the vinegar rush they give. The meat had good exterior but the centre was not pink enough for me. I can understand why bad burgers need to be cooked through but good meat needs to be pink in the centre. This was to be fair only the second day of Big D service, though.
The overcooking took away some of the point of the high quality pattie but not disastrously so, it was still a good mouthful. The meat was richly juicy, toothsome and very filling. J looked a bit glazed halfway through his so I reminded him that I had warned against the milkshake. He managed a nod of acknowledgement before resolutely diving back in.
Chips were okay, a bit oven-chippy to be honest. The batter-fried courgettes dipped in mayo very tasty but dangerously boiling inside when they first arrived, being made almost completely of water. A nice change from the usual side orders we thought and very good for sharing.
I liked Byron a lot despite my burger prejudices. From what I've seen they make each outlet appropriate to the building it's in and don't enforce homogeneity. The meat is well sourced and, I suspect, normally correctly cooked too. The idea that good burgers can be found in normal places with professional service, pricing and consistent quality may be anathema to the burger bloggers but Byron is a chain I can't see breaking anytime soon.