Café Luc, 50 Marylebone High Street, London W1U 5HN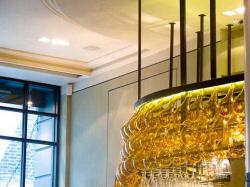 London is composed by a handful of attractive neighbourhood pockets, which blend with the overall city's fabric. Often they possess a 'village" feeling, a gentleness and order, which can be quite soothing to those of us who live urbanite lives.
This is the case of Marylebone Village, north of Oxford Street, one of London's shopping arteries. Composed of a gorgeous high street filled with boutique shops, gourmet delis and restaurants. It is effortless chic. A mix of best of British with a European 'je ne se quois", the perfect location for the stylish Café Luc, a brasserie with Belgian roots, created by Luc van Oostende and his daughter Julie.
It is a spacious, well-designed space featuring a warm colour palette of olives, bronzes and earth browns which harmoniously start from the outside façade and spread through to the inside walls, tables and leather banquettes. The overall light is mid-tone, warm, with some of it coming from wall-mounted cloth shaded lamps and a spectacular Murano glass light installation which floats above the bar counter like teardrops. It feels as if we were sat in a café in Bruges, but I believe that is the intention of this venture.
Café Luc is open all day and serves very good food from breakfast to dinner. The menu is strongly French with Mediterranean hints. This is the sort of place you might take your mother after a morning of shopping in Marylebone if you wanted something a bit more special in a brasserie style environment.
On a recent visit I had the chance to experience some of the dishes of the menu, for starters the traditional shrimp croquettes which came nicely paired with fried parsley and half a lemon beautifully covered in a piece of muslin. They were moist and I enjoyed the relaxed look of the lemon. I ordered the crab tian, which was beautifully moulded, garnished and plated. This was a little too manicured for my taste but was fluffy like a cloud, the crab had a great texture and consistency.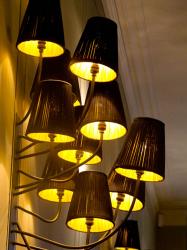 These were followed by the main courses which for N was onglet, with caramelised onion on top with thin frites, and sautéed spinach. My braised cod was served with beautifully firm scallops, celeriac purée, young artichokes and leeks and came covered with finely chopped chives, which somehow resembled the look of coarse algae. It was delicious and fresh, my type of dish.
The onglet was also very well executed and tasty, although the caramelised onion top was probably a bit unnecessary from a purist point of view, especially when you are flavouring such an uncommon and quite rarely presented cut of beef.
Everything was lubricated by two glasses of Sancerre, which were served in two classic French goblets. We skipped dessert but not the ubiquitous espresso, which came next to two chocolates au poivre, two delightful little pieces which completed a great lunch.
Café au Luc serves fantastic food by friendly and attentive staff in a relaxed but chic environment. In a time when everything seems to be of a franchising nature, this unique food destination is perfectly set and compliments one of the most beautiful London neighbourhoods.