15 Mincing lane, London EC3R 7BD. www.camino.com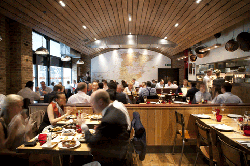 Camino Monumento is the third in Richard Bigg's mini chain of Spanish bar/restaurants in London, although he dislikes the term'chain' as each Camino venue aims to have its own distinctive character and ambience.
This one is just minutes from the Monument, and Camino Monumento joins Camino Cruz del Ray (Kings Cross) and Camino  Puerto del Canario   (Canary Wharf) in the Bigg Empire Next spring the trio will be joined by Camino San Pablo  (you've got it, at St Pauls)
Former commodity trader Bigg also owns the UKs first dedicated sherry bar, Bar Pepito in Kings Cross.
We visited Monumento  on a cold and rainy London evening, bumped along on the walk from Tower Hill by a stream of sniffling commuters bent against the drizzle, to find a bright bar buzzing with after work drinkers consuming Spanish beers and wine. Camino Monumento, which occupies the old Bertorelli site on Mincing Lane , has  a mix of London brick and glittering steel in its bar area which also boasts  table football  and bar tables and stools which all receive table service.
Cosy corners or Rincon each have their own names and from the ceiling and walls dangle assorted Spanish paraphernalia; wheelbarrows, pots and pans that Richard brings back from his regular travels to the country that inspired him. The bar is brightened by flashes of red and yellow, and a small room behind red curtains which can be cordoned off for private hire, has a vivid mural executed by a Spanish Banksy
Spanish food is now easily enjoyed in a number of London tapas bars and cafes, but Camino has already put its mark on the City with a distinctive brand of gourmet Spanish food and a top wine list. The'Camino'it aims to travel is the link between the different regions of Spain which each have their own specialities and tastes
The restaurant is behind the main bar, and although less noisy it still has a casual, open feel. A giant map of Spain on the wall leaves us in doubt of what we are about to experience, and our fellow diners, mostly from the local insurance offices, are relaxed.
We began with an array of tapas favourites including a bowl of very sweet marinated manzanilla olives with lemon zest thyme and rosemary. There was good tortilla, gambas and crisp squid too, but a cut above the usual tapas offerings was a shared plate of Cecina, cured beef with Valdeon cheese and truffle oil from the Bodega, (store cupboard) and a surprising black pudding dish  Morcilla con alegrias, pan fried with spicy alegria peppers.  Our Spanish waitress was called Rocio (her name means Dew) and she suggested a number of other dishes such as Rape, monkfish wrapped in Serrano ham with Tio Pepe cream sauce and olive mash. The tapas are served all day and range in price from £4 to £8 approximately.
At this point in the meal Camino regulars tend to move on to a main course favouring the signature range of Basque steaks   'Sagartoki' style, – ox steak from the Basque country. Also popular is the mixed grill of sirloin steak, Iberica black pig, chicken and chorizo priced at £45 for sharing
The Presa iberica, (black pig shoulder blade with \Jerusalem artichoke puree) was delicious as was   a chicken skewer and chicken livers with parsley salad and alioli dressing
Despite the dominance of the Asador (grill) and the steaks on the menu, there's plenty for vegetarians here with vegetable platters and fish sourced from Cornwall and diver caught scallops from Dorset
The wine list is a happy one, with whites listed under categories such as Sunny, Juicy, Luscious and Buxom and Reds under Vibrant, Seductive ,Racy, Meaty and Immense. Prices are across the board with a crisp white Albarino coming in at a juicy £31.50 and Richard Bigg's personal favourite, a Bodegas Alion 2007 at an immense £83
Cocktails are available by the glass or jug and range from a tradional Sangria at £19.50 a jug to A Zombie 66 at £24.50
'A selection of desserts' to share at £10 was a tray of perfect mouthfuls of Tarta Santiago, traditional almond tart from Galicia, Crema Catalan, an orange vanilla and cinnamon Catalan custard cream and Espuma de café, white chocolate mousse and dark coffee foam A drop of Rhum Orange Santa Teresa, fine golden rum macerated with oranges and spices ensured we left Monumento bathed in a warm glow of Spanish sunshine
Camino Monumento achieves the standard set for quality Spanish food and wine by the other Caminos and serves its mainly local clientele well It doesn't open at weekends but is open for Spanish breakfast (Desayunos) from 7.30 – 11 a.m