3B The Piazza, 30 Brewhouse Lane, Putney Wharf, London, SW15 2JX caparossa.co.uk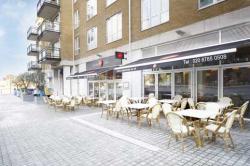 The breeze off the Thames carries tasting notes of salt, diesel and just a tiny hint of effluent, before gathering pace to cut like a Global knife through the stacked apartments huddled close to Putney Bridge. Opening a riverside restaurant must seem like a good idea in summer, but come winter and you might seriously wonder if you've done the right thing.
The boss does have a bit of a worried air about him this Friday night, but as his place is busy and there seem to be quite a few Italians in from the sound of it, he shouldn't be. This new London restaurant may be hidden away from the main part of Putney but it's got a nice warm modern feel when you walk in and people are clearly seeking it out.
The open kitchen is buzzing, there are Parma hams hanging up, a seriously tempting case of Italian cheeses is on view and there are good smells around. What's more we can see good food going past. There's also a deli counter which seems popular and some stools where you can have a light nibble.
We like the homemade breads, including various flatbreads. The latter are a little over baked but they still taste fine and there are cool hints of chili in one. Other bread comes freshly sliced and in quantity but with no olive oil to dip in, not so much a policy as perhaps an oversight.
A plate of that Parma ham with bread is generous; the sweetly nutty slices tumbled in profusion across the plate. Head chef Nicola Buono has apparently personally chosen all the hams served here and he's done well. We also share a plate of three types of cheeses, varying from a mild and innocuous Provolone to a near pensionable, powerful Parmesan. It's a good combo, especially with a surprisingly good Chianti, a wine still suffering from its Hannibal connotations in my tiny mind at least.
We actually chose it because it was about the least expensive we could see – Caparossa has an impressive wine list arranged by ten regions, but it's a pricey one with a couple coming in at over a £100 each. Bit steep for me but the fancy flats above probably house wealthier punters.
The pasta selection is small, but that's reassuring and it's well priced and interesting. Pasta e patate is a traditional Neapolitan dish not normally seen in the UK. It couldn't be simpler, just fresh pasta ribbons with potato, garlic, basil and celery, but it's delicious. Some of the potato has melted to become a thick sauce, the rest has stayed in al dente cubes. It's subtle, rich and rather filling.
P has Paccheri alla Genovese; squares of pasta smothered in slow-cooked, fall-apart hunks of beef in a herb and onion sauce. Again it's simple, again it's excellent with the caveat that P said the pasta was a bit undercooked for her taste, although the bit I tried was fine with perfect bite.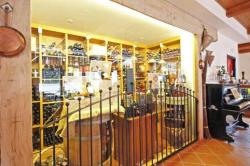 This would have been enough food for normal people, but we wanted to try the meats all sourced from reputable names in the UK. Most of them are grilled and with minimal saucing – in classic Italian cooking the sauce that the meat is cooked in is used for the pasta that precedes it.
Tagliata di manzo con Parmigiano Reggiano was a great piece of well-aged beef crustily caramelised on the outside, rare as hen's teeth on the inside, sliced onto a bed of dressed rocket and decorated with parmesan shavings. The slicing made it perfect for sharing, P being too full of pasta to contemplate a whole secondi to herself.
Desserts we shared too, a Millefeuille with Bourbon vanilla cream and black cherries was actually about three feuilles but elegant and light, and a 'Torrone" semi-freddo with sugar-coated pine nuts and candied fruit in rum was indeed a semi – a toothsome balance of ice and cream.
You could pop into Caparossa and have a glass of wine and plate of pasta and feel yourself well fed. Go for all four courses and you could feel yourself a bit fat. This modern Neapolitan eatery has a lot of charm, some very good cooking and not an oversized pepper mill in sight. It's all you want in a neighbourhood restaurant and I'll definitely be back come summer.