At 3.30pm on a winter afternoon dusk descended on London. The lights of the Ritz glowed and I walk past Berkley Sq and thinking of nightingales. I was a little early for my tour of The Arts Club and so to pass the time I browsed the windows of De Beers and strolled down the Piccadilly Arcade like a man in the market for a nice pair of cufflinks.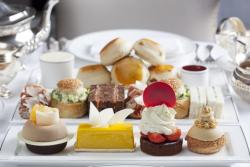 Mayfair is a fitting location for this exclusive club founded by Charles Dickens, Anthony Trollope and Lord Leighton. The Arts Club has overcome a few hurdles of late to become the beacon of style and substance that it is today. With a £1500 membership fee though, I imagine the club is better suited to art appreciators rather than actual artists, who might struggle to make this annual payment, unless you're Tracy Emin or David Hockney that is.
Upstairs, amongst the plush velvet club chairs and marble floors, is displayed pieces from modern artists Tomas Saraceno and John Baldessari. Once I was seated at our booth in the Conservatory, afternoon tea was bought to the table on a three-tiered platter. I hadn't eaten all day in anticipation and carefully managed the urge to scoop the entire row of sandwiches and shove them in my mouth. I maintained composure, however, smoked salmon on pumpernickel, cucumber and crème cheese on white and the most delightful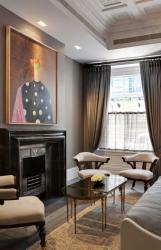 little egg salad roll were placed daintily into my mouth and chewed in good measure.
Scones came next and they were light and fluffy and perfect little morsels to carry my generous dollops of jam and clotted cream. As I made my way to the delicate cakes teetering on the uppermost tier I wondered if I might spot a celebrity or two. The club's more well known members include Tracy Emin, Gwyneth Paltrow, Sir Peter Blake and Ronnie Wood. Not to shabby.
I learnt about the club's sad decline over the last ten years and very recent rescue by restauranteur and businessman Arjun Waney. With an interior of understated luxury provided by the design talents of David D'Almada, members can enjoy a warm, reflective patina that sets off a decor celebrating both vintage and contemporary styles.
The walls of The Arts Club are hung with art by John Stezaker, Theaster Gates, Allan Mccollum, Albert Oehlen and George Condo among countless others. And before you sigh in resignation of your financial limitations, The Arts Club does let the public come in and view the art on a Wednesday and Saturday. Look for the hidden stair well containing the more historical pieces from the collection. They'll even let you pop in for a spot of tea if you so desire.
Now that I've set the scene, it's up to you to decide. For a price, you can be part of London's best-kept secret. You can have access to a private courtyard, a smoking room and the coolest bar staff in London not to mention some damn fine cuisine including breakfast. An underground night club where Mark Ronson controls the playlist and a rotation of fine art on the walls is all yours once you step behind the velvet ropes. After all, if it was good enough for Dickens, it's probably good enough for us.
The Arts Club, 40 Dover Street, Mayfair, London, 020 74998581