Sherlock's Grill, Park Plaza Sherlock Holmes, 108 Baker Street, London, W1U 6L www.parkplazasherlockholmes.com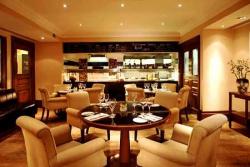 Sherlock Holmes is a bit of a big thing at the moment with the TV series and the big-screen box-office bonanza. His early years in books saw him rise to fame, then that controversial court case with Basil the Great Mouse Detective, (come on, Basil, we all know you were copying him), followed by some moving pictures glory has seen the Holmes brand become a lucrative proposition. So, does the name have an impact on food?
I'm at Sherlock's Grill, funnily enough situated in the Park Plaza Sherlock Holmes. It's got to be a tourism/marketing ploy, right? Well, I'd presume so – though I'm not here to assess the titling of establishments or the effectiveness of such an initiative, even if it were to be true. I'm here to sample the food and take in the ambience. Eat, drink, talk, and leave. Besides, I'm happy to be out of the rain, outside is wetter than a Miliband speech.
I'm on the moules marinière for starters. I'd recently returned from a trip to Southern Spain where I'd had the best version of my life. If these could even come close then I'd be impressed. They arrive in a bowl that's more like a vat, bathed in garlic butter and dripping in cream. They're a real treat. Duckmeister is on the crab and avocado, which she enjoys, but rather than make her watch Fatty tuck in for ages, I grudgingly allow her to share.
They certainly know their wine and are more than happy to chat through the options. Vino is definitely Duckmeister's bag, as is knowing what she wants and having her own way. We sample a few glasses till she's 100% happy, (perhaps not 100% sober), but the staff are enjoying her and she's starring in her role this evening. Who needs theatre when you have hot duck?
We've both gone for the same main, a rib eye steak topped with Foie Gras, duck fat chips and sides of spinach and green beans. It's not a ridiculous price either; in fact none of the courses are, not for the standard of the finished plate. The cut is tender and slices easily, with a rich burst of Foie Gras adding to the marbled steak fat. The mouthfuls glide down easily and are perfectly matched by sloshes of fine red wine. The chips are rich and crunchy balancing perfectly with the al dente green beans and buttery spinach.
The restaurant is an array of creams and browns, has a slight posh feel to it but certainly wouldn't employ a meathead to inspect shoes. It's relaxing and comfortable, fine dining without the bow tie. Conversation flows easily without the feeling that the table next to you is eavesdropping on every word. I'm smiling a lot at the quality of the restaurant, it really pleases me to have a good meal and be able to write a well deserved positive review.
To top off the evening my favourite dessert is listed first on the menu – crème brulée, back of the net. I mulled over the apple tart tatin briefly but I can't resist the crème brulée. I'm glad too as it's a good one, with the sugar not being too black and the mixture being smooth and not too sickly.
Whether the name puts you off or draws you in – if you strip the restaurant down to its bare bones then it's a definite winner in my book. I've held off from the hacked idea of writing this review in a murder mystery style. I'd prefer Sherlock's Grill to be known as a decent place to eat, not for the novelty value. I had a really good time, as did the Duck, the prices weren't preposterous and the food gets two thumbs up too. Does the name have an impact on the food? No, just the review. Worth trying? Yes, elementary. Fiddlesticks.