Carr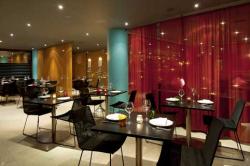 om is a game I used to play with my family when a little girl. People would liken it to snooker but it looked nothing like it, being a shallow wooden tray you'd place on the floor.
The board had intricate patternings and holes into which you'd flick counters with your fingers and thumbs to score points. It may sound delicate but the competition was sharp. Slit eyes and hexes were rife.
I was expecting to see a little more carrom thematic going on at D&D's new Carom restaurant in Soho before I realised I'd confused it with carom – that's one 'r" – the spice, and lovage to those in the west.
Perhaps that's why it was more floaty, red gauze, ruby velvets and smart Soho diners here than ancient Indian thumb aggression.
Mind you, a little thumb aggro goes a long way. But that wasn't the done thing at the old Meza lounge bar which they are phasing out slowly so Carom can slip into its place.
One thing you must note is that the restaurant's very, very loud: a bit like a club with dance music bashing up from the nightclub Floridita downstairs. Many may love this but not if you're wanting a natter about your imminent curtain delivery.
Carom's head chef Balaji Balachander used to work at Benares. Here, he's decided to split the menu up into traditional curries, tandoor grill and favourites such as potato and ginger cakes or Punjabi chickpeas with tamarind chutney. It's quite affordable for this grid of town at around £10 a main.
I was very fond of the chilli-fried squid or 'mirch makeli," with coriander dip and adored some highly-spiced, soft lamb kebabs we'd tried earlier with cocktails.
Speaking of which, in case you want one with your dinner, all have a dash of spice in there including the Bangalore Cooler with Amrut Indian single malt whisky. This, shaken with coriander, cardamom, pear purée and maple syrup, was gritty and unusual with a strong overlay of cardamom.
I'd like to see a bit more imagination with the names, however. Maharaja Fizz and Raj Lassi? Come on, guys! And Buddhatini is plain crass, really.
Back to the food. The Kashmiri-style braised lamb rogan josh was rich with a good ration of sauce, clove-distinct, and a pleasure. The vegetable dumpling, cashew nuts and caramelised onion sauce was acceptable, quite springy to the touch.
We also liked a curried pumpkin, onion, tomato and pickling spices which was simple, fresh and spice-balanced.
The crisp tiger prawns 'dikshin" spices and curry leaves were OK, nothing special but we really liked the kulfi ice cream for dessert. Still though, while the food doesn't wow, it's has its flash points and the venue, with its curvy bar serving Indian wines, is great for a night out. The aggressive thumbs point more up than down.