43-45 Montpelier Vale, Blackheath Village
London, SE3 OTJ T 020 8333 2666 www.chaptersrestaurants.com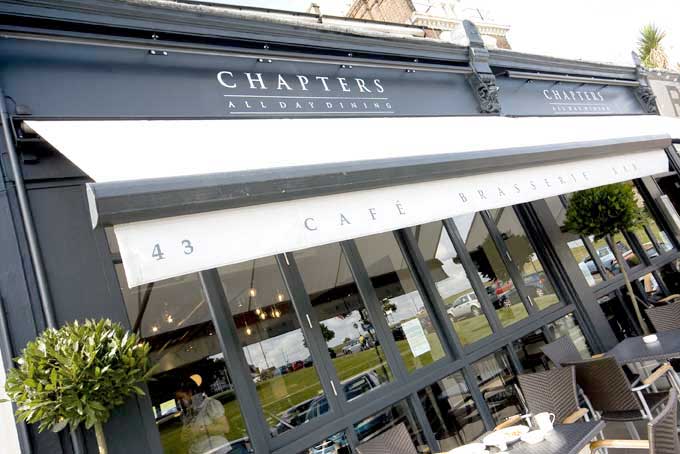 In the wasteland of culinary delight that is South East London, a small glimmer of light once existed. Chapter 2, (sister ship to Chapter 1 in Farnborough; probably the only the Michelin star restaurant in the borough of Bromley). I had eaten in this smart and efficient restaurant many times and always enjoyed the experience. So when it closed for renovation I was a little concerned that hope may have left the South East for good.
Well, Chapter 2 has reopened, although it's now called Chapters. Perhaps something to do with the fact that it's now offering all day dining- the whole book, not just a chapter or two. They now serve a full English, which would I assume to be Chapter one. So what's changed? No t the location which remains the same and which was always great, looking out across beautiful Blackheath and the church. The outside seating has been beefed up and the ubiquitous heaters are on the wall for that final fag. The interior has been completely changed though. The ground floor is now open with a larger bar and a relaxed Brasserie feel. Here I'm told is where the locals congregate throughout the day for a drink or a light lunch, apparently this area is very popular with mums with buggies. Downstairs is much more of a fine dining area, although the menu is the same as upstairs. The décor is a little disco for my liking but it's smart enough. The service as ever in this part of town seems a little uninspired on entrance but once seated it improved enormously.
Now for the most important bit. The food. Always good in the past, I was expecting a downturn. With the whole 'all day dining' thing and little time to change the kitchens surely it would have suffered? The starter arrived, Risotto of Natural Smoked Haddock, Jersey Cream, Spring Peas and Chives. I didn't think this could go wrong, I'm a sucker for Haddock and this is a fairly simple dish. I was right it couldn't go wrong. It was perfect. A small portion but just right for the richness. For a main course I decided on another favourite of mine, and most other peoples as far as I can tell, Slow roasted Belly of Middle White Pork, Cassoulet of White Beans and Morteau Fume Sausage. Again, this would be hard to fault apart from its richness, but that was probably my fault for the greedy choice. My wife had Pan fried Sea Bream, Ragout of Jerusalem Artichokes, Salsify Cos Lettuce and Creamy Wild Mushrooms, never over excited about anything and hard to please, she announced that it was without doubt the best fish dish she had eaten in years. For pudding we opted to share a Raspberry & Almond Tart with Raspberry Ice Cream, We didn't make it to the end through no fault of the tart, we had just had a little too much.
We finished the evening off outside under the heaters with a double espresso looking out over the heath below a clear sky and a full moon. It was quiet in the village, only a man on a mobile phone leaving a message on an answer machine, saying that he had seen his girlfriend with another man punctuated the silence. All round it had been a nice evening and we had eaten some great food, that's what it's all about, isn't it? So we concluded that the light hadn't left the southeast after all, it may in fact just have got a little brighter.
stuart mcharrie