2 Bellevue Road, Wandsworth Common, London, SW17 7EG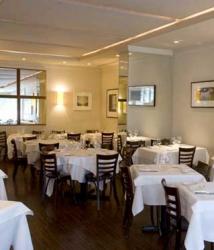 The last time I dined in Chez Bruce I had an absolute horrid time, we had been stuck upstairs in Siberia on my birthday with a waiter who informed us it was his last day and didn't really care. It spoilt what was probably a very nice dinner, we were just too annoyed to enjoy it. Fast forward five years, another birthday and a decision that it was time to go back. After all you don't keep your stars for that long with crap service and the cheese board was still tempting after all those years.
On a Sunday night the place was absolutely packed, they are still running my hated double sitting policy, which if we were in an earlier sitting I would have found incredibly insulting and greedy, but we had booked the 8:30 slot which meant the table was ours and ours only. And a very good table it was too, right next to the window overlooking the common. This might be to do with the fact I was dining with a well known Michelin starred chef but I'm going to pretend it was to make up for the previous occasion. 
At a pretty reasonable £50 for four courses (ignore the option of £40 for three for if you miss the cheese board you need your head examining) there are a lot of places who should take note. I started with the Roast foie gras with duck magret, girolles, gnocchi, bacon and peas, although this incurred a £5 supplement. Foie gras in my opinion should always be roasted or pan-fried, the terrines and parfaits just donít offer that rich, decadent feeling that you should really have when eating it. Along with this we drank a rather nice recommendation from the sommelier that, as all good ones should, understood our budget and ran through a few choices to compliment the dishes.
A main of Lamb rump, breast, tongue and sweetbread with warm summer bean salad and aubergine was an excellent piece of cooking, the offal working very well with the more routine cuts. Little tip, if you feel full right about now, cancel pudding and just have the cheese. Chez Bruce is famed for its cheese board and itís richly deserved.
A heavenly trolley wheeled to the table, it took us about 15 minutes to decide what we each wanted. A good selection, not only from France (La Fromagerie) but England (Neal's Yard) too. Along with a couple of glasses of port the cheese finished us off so we forgot pudding and suddenly realised we were the only table left coming up to midnight on a Sunday. Normally you would expect the waiting staff to be prowling around, urging you to leave but they were absolutely charming, allowing us to take our time.
It wasn't the cheapest Sunday night meal coming in at around £150 a head, but that was with a couple of bottles of pretty good wine, ports, water and cheese but the bad taste left from the previous visit has definitely been chalked up to a bad night. The only problem, although one of my most local restaurants, its popularity doesn't allow it to be a spur of the moment decision, but I want to go back. If only I could get through on the phone and not hear that recorded message, 'We are sorry we cannot answer your call'.