20 – 21 The High Parade Streatham High Road London SW16 1EX www.chillichutney.co.uk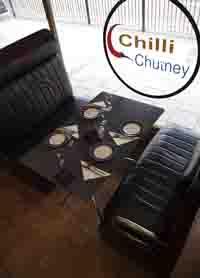 What was Streatham like before some crazy town planner decided to run a motorway right through the centre of it? Very nice apparently, in fact it was called the 'west end of South London' with rows of theatres and concert halls where the top entertainers of the day played. In the side streets were noble Victorian houses and villas.
Then came a change. During the 1960s and 1970s, concentrations of terraced properties and a number of housing blocks were built as part of a social housing programme that did 'much to alter the original ambience of the area" as one historian put it. A subtle way I think of saying 'sent it rapidly down market". It never recovered and now the best descriptive word for Streatham is 'moody". Abandoned by Lambeth council in favour of Brixton, and its exciting challenges and opportunities for career-building photo-ops, Streatham is the lost postcode.
I can say these hurtful things because I live there. Finding somewhere decent to eat in Streatham is as hard as finding a piece of pavement not covered in status dog crap – difficult. Which is why Chilli Chutney is to be applauded for being what no other 'curry house' in Streatham is. Clean, well lit, modern and serving above average food,
You know it's different when you walk in, there's space and light and the atmosphere of an efficient operation. It doesn't give off the air of just being a front for a takeaway business, which so many do. The customers seem cleaner and fresher too, or that may be just my imagination.
Cuisine is Lahori, from Lahore the capital of the Punjab region, and while you can get all the standards at Chilli Chutney it's worth trying some of their specials as the chef has won quite a few awards including the House of Commons Tiffin Club Award in 2008.
A big old 'mountain' chili stuffed with cheese and deep fried in spiced batter was difficult to cut up, so I ate with my hands, which is probably how most Punjabis would do it. It was good; the cheese cooling the quite fierce batter and the flesh of the chilli was only moderately hot. The bigger chilis are invariably milder, of course. Also on our plate of deep fried goodies were cubes of polack which were moist and tasty, plus chicken in batter, which was just chicken in batter, decent breast meat but not terribly exciting. Better, in batter, was the paneer cheese.
Chicken Hari Boti was lightly and vibrantly green with fresh coriander, the herb stalks had been pureed into it -a good move because that's where most of the flavour lives. While the minced lamb kebabs came in a sauce that some might say was a little bit too fiery for comfort. I liked it a lot, the flavours came through the heat enhanced in my opinion, tart and spicy, but P was looking uncomfortable and couldn't eat much. 'I like it but I know all that chili is not going to like me later.'
They serve a rather unique nan bread here, made with yoghurt and instead of being a fluffy pillow, it's more like a roti. I can see if you expected a standard nan you might be disappointed, but these are interesting and make a change from the norm. Plus they went well with a bowl of toovar dal, the dal that comes oiled from India and makes a wonderfully semi creamy potage that goes well with almost any dish.
To finish, carrot halva. It always amazes me how carrots make such great desserts, carrot cake being another example. It's having your cake and eat it because carrots are, of course, part of your six a day so eating them as a sweet dessert means not feeling like you're turning into a rabbit.
Chilli Chutney has three branches; the mothership in Streatham, one next to the London Eye and another one in Croydon. They seem to me to be serious about what they are doing and keen to succeed. It's not just my desire to see Streatham rise in the rankings, although a house price boom would be very handy, that makes me say that Chili Chutney is worth checking out if you're looking for an above average local curry house to be your regular.