18 Wellington Street, Covent Garden, London WC2E 7DD www.christophersgrill.com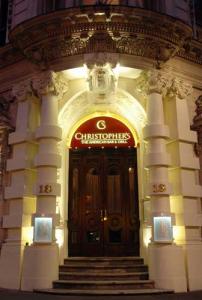 It was, I think, the eminent sage and philosopher Russ Abbott who first put forward the suggestion that we all love a party with a happy atmosphere. As so often in his glittering philosophical career, he hit the nail bang on the head.
Christopher's American Bar and Grill has bags of happy atmosphere. This can be put down to its location in prime Covent Garden. Lots of actors eat in Christopher's, the ones that can't yet afford Joe Allen's. You can spot them because they all wave across the room to each other and stop when passing tables for a quick mwaah. This makes the room cohesive, less a set of island tables and more a community. Add to the mix plenty of venal politicians spending your taxes, theatre goers bubbling over with anticipation and people who just wandered in off the street and you get a room it's fun to be in.
Getting there though isn't all that easy. The remarkable staircase, a remnant of the building's days as London's first casino and which winds up from the Martini Bar to the first floor dining room, is a challenging ascent. Those of us with wrecked livers and smoke-ravaged lungs have to pause halfway up for a breather and then have a little lie down at the top, ostensibly to look at the remarkable ceiling frescos. Given this, you might want to wait awhile before taking granny and gramps there until Christopher's installs a Stannah stair lift.
Which they may do because although the room seems fine to me, apparently a major refurb will take place in the New Year. If you're sitting in the right place here you can see down to the Strand, if you're in the wrong place you can see into the kitchen. Out of there comes cuisine perhaps best labelled Modern European Asian American, which is not as bad as it sounds. This is a restaurant catering for everyone in the egalitarian New World way, with impressively efficient service that's at your beck and call but not in your face.
You'd be hard pushed to find something you couldn't eat on the menu. The kids will drool over all kinds of burgers bigger than their heads, made with quality meat from Scotland or USDA grade beef. That same meat can be found on the steak menu and they have the Surf n Turf options that only an American mind could conjure up. Personally I like my surf n turf separated by a beach, preferably with me on it. These dishes are hefty, truly American and what a lot of people come to Christopher's specifically for. If that's what floats your dining boat, fair enough. You'll waddle out happy.
Foie Gras and Chicken Liver Parfait served with a Quince Jelly, Pear Compote and Crisp Bread is a safe bet almost anywhere. The bread was indeed crisp, as advertised, and the livers pretty parfait. Nice to see quince jelly too, its slight sourness offsetting the rich foie and the sweet pear. Did you know marmalade was originally made with quinces? Marmelo is Portugese for quince. Thank you Google.
I wouldn't recommend the New York Shrimp cocktail though. If the appellation New York means four large prawns on a bed of ice served with a pot of red stuff, which could almost have been one of Heinz's fine products, then New Yorkers are making a big mistake, especially at £14 a pop. Disappointing. There wasn't even a hint of iceberg lettuce ffs.
Maryland Crab Cake, Red Pepper Mayo and Rocket Salad was much, much better. Moist sweet crab, slightly crunchy cake exterior and a light hand on the cake mix so it wasn't hockey-grade. That and good bread made the atmosphere happy again.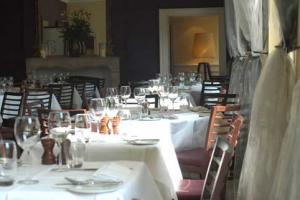 Pan-fried Calves Liver with Monterey Mash, Pancetta and Parmesan Tuile is an 80's winner. Back then we ate it all the time because it was both classless and bloody expensive, thus matching our lifestyles perfectly. Here the liver was almost perfect, a bit more searing would have been good, but the centre was properly pink. Mash was excellent, although I don't know what the Monterey bit means, and it soaked up the good jus. The pancetta was a trifle poncey, I'd have preferred a robust bit of bacon personally, but you can see why chef might think that crude. The parmesan tuile gave a good salt edge to the dish.
Slow-cooked Five Spice Belly Pork with Sprouting Broccoli and Soy and Ginger Dressing was definitely from the Asian side of things but was round -eye robust. The pork melting and tender and packed with flavour from its own rich fat as well as all those spices. Sprouting broccoli is out of season right now, so airmiles were involved here I suspect, but it was served perfectly al dente for that enjoyable broccoli crunch. The dressing was punchy and interesting and complemented the pork well. Soy can be salty, especially Chinese cheap soy, but this had the warmer savour of finer fermentation.
There was a puffing refusal by P to take dessert; the pork belly had filled hers, so it was down to me to take the bullet. It had to be Baked New York cheesecake with blueberries, given this was an American restaurant. It was very good, lighter than it looked and with the right sour notes from the cheese plus the balancing sharpness of the blueberries. You don't see proper cheesecake very often; this made me wish more restaurants gave it a go.
And you should give Christopher's a go. It occupies that ground between a Café Rouge type operation and fine dining. It's about a big menu, reliable dishes, reasonable prices and a sense of being somewhere a bit special. Tucked away on its first floor, it's a secret the tourists don't know and perfect for snatching dinner any time of the week. You may even see Russ Abbott in there, if so give him a happy wave.