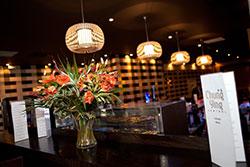 I'm a fat bloke, but back when I was a boy, I was also fat. Don't worry, I'm OK with it – I'll even let you in on a secret. When you're a fat boy, the first time you try Chinese food, it's absolutely epic. Chung Ying broke my Chinese cherry and I've been a Chinese food slut ever since. I've never had spare ribs better than that day and I find it almost impossible to find turnip paste anywhere.
There's a new Chung Ying restaurant, Chung Ying Central, and with Chinese New Year around the corner, what better time than now to try out the new branch? It's not easy to spot, neither's Nobu, but it's easy to get to and you'll remember the way. The room gets the satisfactory nod all the buggers on Escape to the Country do when they first walk into a room.'Ooh very nice, look at the walls, nice walls, yes I like this.' It is really nice to be fair, cosy but not confined and a splash of good taste.
The staff are a good laugh, (hey!). They help you struggle through deciding what you're going to try. It'll always end up being your favorite dishes. You get brave at the beginning and decide you'll read every dish but that takes too long. They're here to take your order. Quick. Scan. Crispy Shredded Beef. Nice.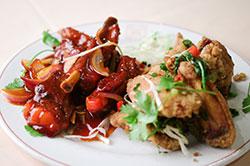 There were more adventurous choices. I like spotting an ingredient that you're not going to find in the local Tesco's. Mini octopus got me, which to be fair I would buy if they sold it at the local shop. So I had some of that; it was cracking and it goes well with the squid cooked in exactly the same way because, effectively, it's pretty much exactly the same. They're both amazing. A breadcrummy, southern-fried-like taste, slight crunch, big chilli punches and undertones of salt, garlic and pepper. It's clean and it's addictive. I could eat it all day.
Where the heck did the steamed bun revolution come from? They're everywhere. For obvious reasons, because they're great. Do you remember the first time you took a bite and being shocked at just how soft it was? I came to the conclusion that Kingsmill soft white buns were the closest thing in softness comparison. That sounds like a pretty fat investigation, doesn't it? Well it was also a delicious one.
All this was just dim sum. I love dim sum. Just when you think there's not enough choice, they throw another bazillion options at you. The chicken curry spring rolls are good. I got my mate to try the roe on her hand-caught scallop with ginger and spring onion without telling her what it was. I know that's evil, but she wouldn't have tried it purely on name alone and that annoys me. Plus it was funny and I got the scallop. Win.
The main course rocked. I went deep into the menu and decided on crispy shredded beef. Yeah, keeping it real. This one is tops too, it's got a crackle to the crunch and a thick sticky sauce. I tried a bit of sweet and sour chicken for old time's sake. What's more, it has my preferred taste: less of a the pineapple and more of a tangy whack. Plus the chicken is served crispy on the side so there's still a crunch to be found.
Loads of prawn crackers were served all the way through. Some really tasty cocktails that go down way too well to consider driving. A place that justifies dressing up at night, not too pretentious but still swanky. You could easily dress more casual in the day. Your guaranteed favourites are on the menu and the new dishes you try don't disappoint. I know I didn't try the ribs, but the first ribs you ever have are the best ribs you'll ever have. My first ribs were at Chung Ying.