Address: Aldermary House, 10-15 Queen Street, EC4N 1TX
CORE brings NYCs'Brew and Brew' concept to the City
From its abundance of old man boozers to those characterless underground lairs that are the last resort of pin-striped brokers, the City certainly has plenty of places to drink, but still there aren't many contemporary bars where you can find a decent beer or even a coffee in an environment where interior detailing isn't just an afterthought. This seems to be the gap in the market that Core is aiming for.
So, bringing across the Brew and Brew concept from New York, Core is set on offering good beer and good coffee…and knowing the bar as I now do, a combination of the two at some point.
The cocktails are obviously the bar's main attraction. The Mixologist behind the drinks is David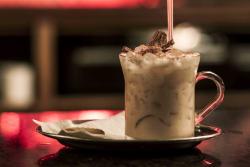 Kay of Late Night London. David believes that sweet cocktails are back in this year, so his concoctions include the Cadbury's Cream Egg, a Chocolate Orange Martini, and the Morning Glory (fruit loops and all!)
Contrary to this though, I thought I would kill two birds with one stone and went for a beer based cocktail from the'Brew and Brew' menu: Derby Day is a mix of Blue Moon with Woodford Reserve and orange marmalade (which provided a small bitter kick to a more than palatable tipple).
Then onto beer. The draft selection appeared a little light on the ground when compared with other craft beer bars popping up around London. You'll find some curious stuff in bottle though: Snake Dog IPA, at 7,1%, or the Icelandic Einstock, for example. And the ciders include Orchard Pig (need I say more) as well as few of the contemporary regulars like Rekorderlig. There's a sufficient wine selection too, mostly focused around an extensive selection of bubbly to fit most wallets.
What's attractive about Core is that its interior is a pleasant change from that insipid nineties-style minimalism that manifests itself in the City. It's the type of place where you'll find a Smeg Fridge in the corner or a fun neon slogan on an exposed brick wall. Upstairs, the bar front is made from old drawers which could have come straight from the office of a 1970s British Rail Manager.
And if upstairs makes you want to loosen the tie and kick back, you might want to wrap it around your forehead Rambo style downstairs where it's a more industrial, raucous affair. Here, DJs, and the occasional saxophonist entertain a slightly more revved up crowd – it struck me as a basement that might boil over on busier nights of the week.
CORE's staff were passionate and keen to chat and recommend a tipple. So much so, one of the bar managers confided in me that he holds a world record for opening 79 bottles in 60 seconds. You do the maths…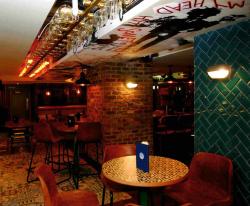 While they have a food menu, Core did not strike me as a place people go purely to dine. The food, mainly classics like burgers and snacking platters, is made from good ingredients. It's just that they don't make much of a play on it and the menu felt a little out of sync with the attention to detail in the bar's interior and its drinks menu.
But if you are looking for somewhere that feels a little more personal in the City and you like cocktails and a decent bottle of craft beer, then don't let the fact that Core has doorman put you off.
CORE is open from lunchtime onwards. Check out the website for events such as live music and DJ sets.