Cowboy Cocina, Mojacar, Spain
It's funny how you travel to another country and meet someone with whom you share a mutual contact. Mojacar seems to do this a lot for me. On this occasion it was the co-owner of Cowboy Cocina, Kenny Bishop. We talked briefly about London restaurants and to give me a flavour of what Cowboy Cocina is all about Kenny mentioned that the closest comparison in London would be his close friend Andre's restaurant, Bodeans. A few months earlier I'd been to Bodeans, met Andre and written a review. If this was the closest comparison to Cowboy Cocina, I was in for a real treat.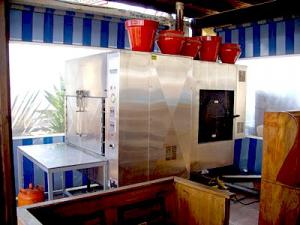 Kenny has an obvious love for American style cuisine and takes it to the extreme, flying in an enormous Old Hickory smoker all the way from Missouri. All meat is smoked for 18 hours and then delicately grilled before it arrives on your plate. Sauces and dips are homemade, as are the desserts, chips, slow-cooked chillis and anything else you find on the menu. Trained in London-based French restaurants, he is now one dedicated American-style meat man, who regularly competes in BBQ competitions in the USA, achieving second place on his last visit.
In all honesty my friend, Mud, and I had done pretty well for food before we visited Cowboy Cocina, mainly thanks to fresh Spanish produce and my culinary skills, although the bowls of cereal that Mud manages to serve up are ever so impressive, (seriously the guy is rubbish). Expectations high, a day of hard grafting over, we arrive at Cowboy Cocina early evening and are immediately greeted by helpful staff members Danni and Liam, dressed in Halloween cowboy outfits. We're taken to our seats and informed that Kenny has a special combo of his best dishes lined up for each of us, now that's service! The décor, as you would imagine, is that of a ranch, heavily laden with cowboy memorabilia.
A small side salad arrives first to whet the appetite, made with fresh vegetables, topped with homemade coleslaw and crunchy croutons. It's really good, crunchy and fresh, but then the monster combos arrive. Each plate contains two giant spare ribs, a sizeable portion of pulled pork, fries and a bacon cheeseburger that Kenny calls his Gunslinger burger.
I'm a huge fan of pulled pork and this is like no other. Each steaming forkful is succulent and melts in the mouth, perfectly complimented by both the smoky barbecue and the spicy sauces. The meat on the ribs is so tender it peels off with a fork and the burger is arguably the best that I have ever tasted. Kenny doesn't include lettuce in his burger or onion in the patty, yet the meat is pink and remains juicy. All three dishes are huge hits with us both and when Danni makes her recommendations as to what desserts we should choose, Mud and I are on the brink of collapsing from full stomachs.
Time to man up though and take on the challenge of some good homemade desserts. Mud only manages to finish half of his gigantic American waffles with cream, ice cream and strawberry sauce. This being American cuisine, I decide on some good old-fashioned apple pie served with cream and ice cream. It's pure heart attack on a plate but it's a real tasty heart attack and I'm glad I was convinced to go for dessert.
The entertainment doesn't stop at the food. Kenny's other love is music and he entertains his guests with a few of his own songs and a couple of cover songs, you would expect nothing less from a man who used to play with Gary Newman. One fantastic night of food and entertainment from start to finish.