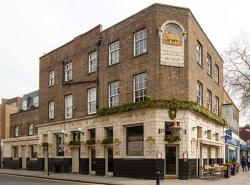 While East London continues to get the accolades for fashionable places to eat and drink in the capital- the suburbs of West London, perceived as a bit staid and not quite so edgy, are often overlooked
But  cheerful Chiswick has a devoted and lively community and a new wave of restaurant and bar openings (and some closures too) has sent ripples of excitement through the neighbourhood. Sipsmiths gin distillery is relocating to Chiswick and City superwoman Nicola Horlick is said to intend to open a restaurant here.
And now, the Crown and Anchor pub , something of a Chiswick institution,  has undergone a major refurbishment and is aspiring to be The W4  place to be with an elegant upstairs gallery bar, open kitchen and a fresh new menu.
The pub has occupied its prime spot opposite Turnham Green for decades, built on the site of the old Chiswick Empire which in its heyday saw the likes of the Beverley sisters and Max Bygraves treading the boards. Fings certainly ain't what they used to be in Chiswick, with house prices rocketing and celebrities such as Mr and Mrs Colin Firth moving in, not to mention both Ant and Dec whose antics in neighbouring pubs occasionally still lower the tone. But the Crown and Anchor, which has reinvented itself several times over the years from an old boozer to a café bar aimed at attracting the local buggy brigade, is now poised to bridge the gap between  traditional Chiswick pub and sophisticated  bar and restaurant .
The restaurant interior at the rear has been decorated in greys and browns with mismatched lights and chandeliers, while the front of the pub has red sofas for more casual visits.
We visited on a Sunday when the traditional roasted 21 day aged Rib of beef with an enormous Yorkshire pudding proved to be a popular choice with carnivorous husbands but I chose Sea Bream with brown shrimp and brown butter sauce which had an unsual flavour but was light and  satisfying. The beef was cooked perfectly, and just as requested. We chose fresh spring greens and leeks as side dishes which were perfect . Other British specials include Cherry Orchard sausages, Mash, Shallot Crisps & Red Wine Gravy, Beef Shin & Kidney Pie and Barnsley Chop with Peas & Mint which all looked substantial and smelt great.
We had opted for Caper & Endive Salad with Bacon Dressing to start to start to leave room for an enormous Apple, Blackberry, Pistachio and thyme crumble, although for a starter this turned out to be hearty –sized , but could have opted for White Onion & Cider Soup with Cheddar Toast and Pork Crackling, or a meat board to share.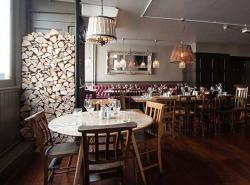 Also at the weekend The Crown & Anchor's brunch menu is on offer which includes an interesting dish of Slow-Roasted Pork Belly topped with Rarebit, Bacon Hash & a Fried Egg or Soft Boiled Eggs with Bacon Jam Soldiers
 Fellow diners when we visited included a large family group and a number of local (non celebrity) couples. The revamped dining area has created an airy relaxing space and the open kitchen gives a nice focal point without dominating
I popped back a few days later to see if the local week- day drinkers were as happy with the new C&A as the Sunday lunchers and brunchers, and found a jovial crowd of office workers enjoying their pints and Pinots with bar snacks such as Beer-Battered Black Pudding, Pigs Cheeks with Piccalilli and Lamb Pasty with HP Sauce and sandwiches including Hake Fish Finger Bap with Baby Gem & Tartare.. 
Remembering that Chiswick is a beer-loving area, with Fullers brewery dominating the river in old Chiswick, The Crown & Anchor remains faithful to its beer fans – with a regularly rotating range of draught beers and cask ales. Here we find everything from Meantime Union lager, The Ridge pale ale and CamdenHells Pilsner on tap to bottled beers such as Goose Island 312.
The wine list is small but good and with prices around £30 for a decent bottle of Reserva Carmenere maipo red, drinkers can still pay the Chiswick mortgages