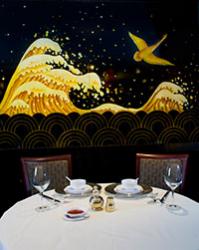 On my plate rests a thin slice of the seemingly unthinkable – luo buo gao (turnip pie). Around me, Chinese kids are eating similar dishes with their parents. The sky is a brilliant explosion of gold, and to the left, a swan crests the waves in a starry night.
This isn't some fantastic, vivid dream – it's a Tuesday afternoon in Queensway, where I'm indulging in a dim sum lunch. Despite my love of Chinese cuisine, the pleasures of dim sum had somehow eluded me until this moment.
I rack my brains and try to think why. Many a night in Soho was spent walking through the streets of Chinatown, stopping to observe the lovely ladies in restaurant windows taking a spoonful of filling, placing it squarely in the middle of a thin circle of dumpling dough, then, with lightning quick speed and dexterity, sealing it up with the all-important pleats, the number of which determines the skill of the chef. Who could refuse those delectable, mysterious little treats?
I didn't count the pleats at Royal China Queensway, though it is safe to say that the restaurant, the progenitor of the Royal China franchise, has established a sterling reputation amongst London's dim sum houses. There certainly appears to be no reason to doubt its authenticity, as evidenced by the scores of Chinese families giving their kids a half-term treat.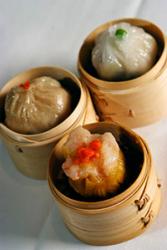 They have every reason to want to come here, too – the decor is handsome and characteristically oriental, with dining taking place in a single, large room, adorned with gold leaf ceilings and black lacquered murals on the walls depicting the seascape alluded to above. Refurbished in 2012, the interior manages to walk the tightrope between class and pretence admirably.
The dim sum menu is a worthy complement to these surroundings, with a dizzying array of buns, cheung fun (rice noodle rolls), and dumplings. Served in groups of three or five (the number four is considered unlucky), all have that characteristic fineness of good Chinese cuisine, with the fillings minced and chopped sufficiently to give a wide and exciting array of flavours with every bite.
All were tasty, although everyone has their favourites. The spicy pork dumpling has just the right amount of kick to satisfy tame British taste buds, while the roast pork bun is delightfully fluffy and sweet on the outside, with a pleasing savoury contrast as soon as you hit the pork filling.
Eating in the Chinese way, with many small dishes to sample and share, is far more exciting than the Western tradition of starter-main-dessert, which doesn't afford the same scope for experiencing everything the kitchen has to offer. The only negative is that the food was somewhat rich. You couldn't have it every day, but then, this is meant to be a once-in-a-while lunchtime treat, and for that, Royal China's dim sum serves its purpose admirably.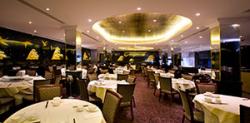 Service was quick and amicable, with none of the supposed coldness that some other online reviews complain about. The dishes are priced at an affordable £3-4.50. At that price, it's easily worth a punt. Newcomers and experienced Chinese foodies alike will have a great experience, with lovely surroundings, excellent service, and, most importantly, delicious dim sum – even that turnip pie.