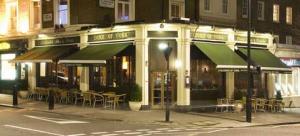 St Johns Wood, a wonderful place I had only heard of in tales. Friends had recommended it as a good place for lunch or a lazy Sunday afternoon, especially if you like cricket. What the Devil were they on about?
This place certainly is striking. The streets are clean, the houses are remarkable and even the white van man that clips my elbow shoots out of his van and is concerned for my well being. Of course I'm alright, it's only a wing-mirror, no match for my elbow of power, but as I continue on the five minute walk to the Duke of York I realise that clipping elbows round these parts could land you some serious trouble. Darn those injury lawyer adverts.
The Duke of York is a trendy, welcoming and homely pub located on the corner of a crossroads, a short distance from Lords cricket ground, a detail I'd read on the website. If you weren't aware then the clientele and staff will inevitably inform you. A posse of office workers swap cricket stories and opinions as I sit outside perusing the menu, waiting for Special K to arrive. A Ferrari parks up on the opposite side of the road, which in my hometown in the Midlands would turn heads, but here nobody seems fazed. Must be one of those small Ferrari cars. How mundane.
Special K lacks organisation so I dine alone. I have the choice of tables and select a quiet one where I can enjoy my meal and write, (crumbs that sounds so Starbucksy). The starters and nibbles have a strong Asian influence that isn't reflected in the main course. The dishes sound good, but there's no real theme as the mains are very English.
I decide to start with Japanese-style prawns, until a recommendation to opt for the homemade duck spring rolls is made by the waitress. I follow her advice and am delighted with the outcome. These certainly are packed with duck meat, unlike their take-away or supermarket counterparts.
My main is a wonderfully grilled tuna steak. Though not served pink on the inside as I would normally prefer it remained most and seasoned perfectly. Sitting on a very generous bowl of fresh salad with a light dressing, the main course was light, healthy and good value for money.
I finish off my lunch with a made in house mango sorbet. It's a real treat, soft, sweet, rich and even more impressive having been made fresh in the morning. That's the theme I seem to have missed in The Duke of York, everything is homemade, fresh and created from scratch every morning.
Nobody likes to dine alone, but there's such a warm and friendly atmosphere in The Duke of York that it isn't an issue. The staff are talkative and friendly without being overbearing. You can genuinely tell that they will go out of their way to make sure you have the best time possible. A really charming venue with a strong talent for cooking, I'd head straight for it next time I'm off to see some leather on willow.