Eight over Eight closed down in 2009 as a result of a fire which, given the restaurant's client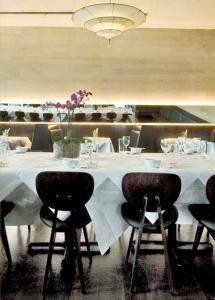 ele, was possibly started by a member of the working classes with a chip on his shoulder. It's no good looking at me though guv, I've got a cast-iron alibi.
Now up and running again after a lengthy repair job, the place is jostling with the pretty people that live in the area and for whom the word 'recession' is something to be Googled on the latest iPhone and then dismissed as 'not relevant here'.
Part of a group that includes E&O, XO and XO To Go (negotiations are presumably taking place to acquire OXO), Eight over Eight shares the same sexy Pan Asian menu as its siblings and mostly the same kind of customers.
Pan Asian food is perfect for pretty people. It is mostly light, it is easily shareable and it gives the impression that if not exactly good for you it won't do you any harm either. And it features expensive ingredients such as Black Cod to casually order with insouciant grace.
The exterior of Eight Over Eight still screams 'ex pub' but inside a busy, buzzy bar gives way to a fairly large room with a high ceiling and a few too many tables in it. Our table for two was no bigger than a beer mat and if Pan Asian food demands anything it demands space for all the dishes. Our waiter did his best at playing chequers with the plates, glasses, menus etc but we had to keep helping him out to avoid disaster.
This also means unduly close proximity to your neighbours and thus I can now tell you all about the beautiful girl next door's trip to Bali 'awesome' and how London Fashion Week was working out for her. Very well apparently as she met some 'awesome' guy covered in tattoos. How awesome for her.
The food though is very good if not exactly awesome. Edamame beans to nibble on were piping hot, well dunked in rock salt and came with a decent sized bowl of soy and mirin to splash them around in. 'It's a canapé AND a hobby,' commented L as she dragged the pods through her teeth to liberate the beans inside.
As Pan Asian menus go it's mercifully small so decision-making isn't a painful process. Chilli salt squid was a no brainer, it's always great when done well, while some dim sum gyoza of prawn and black cod were equally easy to decide on.
The squid was worth ordering. Crispy and fresh with the paper cone drawing out any lingering vestiges of oil, and with shards of red hot chilli dotted viciously about, it had us scrabbling for the last bits. The sauce that came with it added extra pain if you masochistically wanted it. The gyoza were chopstick unfriendly. fighting tenaciously to remain attached to the steamer base, but were pleasant in a fairly unassuming way.
I'm as much a sucker for black cod as the next supermodel, even if both my looks and the novelty value of the fish wore off some time ago. Here a decent sized piece of Notothenia microlepidota came perfectly cooked on a wooden board with artful puddles of sauce dripped alongside. It was delicious, it nearly always is, the flesh tumbling into flakes that were juicy and sweet from the mirin and miso marinade
Korean BBQ lamb was cooked rare, too rare on one of the four pieces as it sat up, looked at me and said 'Baaaa!' That aside the other three were just right.. The charring outside was excellent and the sauce sticky enough to glue my fingers together and give me a Dirty Sanchez moustache. Add to that, as we did, some chilli rice, spicy hot and filling, and some thin green beans and we had a good size meal for two.
Puds were 50:50 successful. Adding citrus to crème brulee doesn't work for me, the clash is too loud, but the ginger pudding was comforting if a little filling. All in all, and washed down with a Pinot Gris, this was a good meal of its kind and, while expensive, no more than you would expect from a Will Ricker operation.
Certainly it works, the place was packed and even on a Tuesday there was a queue jostling to get in. A few doors down in the Marco Pierre White Steakhouse there was only one person in as we passed, a waiter seated at a table with his head in his hands. Perhaps he was praying for another fire at Eight Over Eight? Someone hide the matches from Marco.