30 Charlotte Street, London, W1T 2NG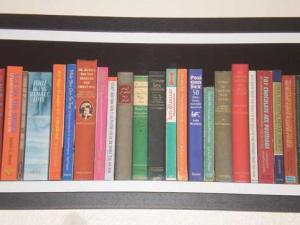 Andreas, the manager of Elena's L'Etoile, is chuckling most mischievously. We're in one of the 100-year old French bistro's private dining salons gazing at naughty photos of books. Ooh la la! The rooms are all stacked on top of each other in a charming towering Georgian townhouse in Charlotte Street. Peek into a room here, there's a hushed group of men in suits. Another salon, another floor, there pose a gang of media workers. But it's the photos of the sexy books that mimic bookshelves tickling Andreas: 101 Chocolate Sex Positions, The Happy Hooker's Guide to Sex – all posing as respectable classics.
Elena's L'Etoile, with its bistro charm, kicks out naughty frills and Frenchness like the can-can. Its eclectic and Art Deco decoration includes random brass wall inlays and two stained glass windows inserted in the ceiling. Pictures of actors and slebs – not all visitors – plaster the tobacco-coloured walls. Diners are respectable, good-humoured, full of bonhomie.
We were here to try its new kitchen team's cooking, a stab at a new chapter in the establishment's centenary. Tonight was a case of my companion's dishes being head and shoulders better than mine, however.
T's duck rillette was legendary, a real etoile. This shredded duck had been welded into a pear shape by slapping cold pork fat around it then sticking a bone into the top, a bit like a toffee apple. Its skin was saltily crisp, the meat oily and pertinent. Very excellent. I wasn't as happy with my poached cod cheeks with pan-fried Black Forest ham, kale and sauce soubise. I couldn't discern too much spiciness in the sauce, the kale was just kale and the cod, though well textured, wasn't integrated into the dish.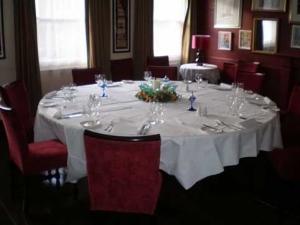 My main was roast rump of lamb, ratatouille, onion confit, Anna potatoes, and rosemary pan juices. This was good. The ratatouille, which normally I dread as being the last home for courgettes, was rendered palatable by it being presented in a cube. No aubergine or courgette piece bigger than a pinhead and a surprisingly good foil for the lamb. The lamb was perfectly rare with a nice rib of fat flavour flowing through. They were set on a wafer-thin lining of potatoes, overlapping like a fan. A very thoughtful dish, in all. T's braised pork belly & pan fried king scallop with Bramley apple mousseline, sautéed leeks, red wine jus was fine, standard, we disagreed on the crackling though, T wanting hard, me quite satisfied with the slight chewiness of it.
My puddings of iced apple parfait with apple puree, lime gel and almond praline was forgettable but T's vanilla creme brulee was divine, really moussey and more creamy than gelatinous as crème brulees can often be.
The wine list, as would be expected, covers the French region well with a good range of Bordeaux, Burgundy and wines from the Rhone. There's also a good spread of Italians. However, at minimum £5 a small glass, they're not cheap. Come to think of it, my lamb main at almost £20 means that this hangout doesn't quite have bistro prices. But what it does have is charm and a character lacking at other Charlotte Street venues. And hidden behind the courtesy and the napkins, there lurks a devilish sense of humour.