25 Slingsby Place, St Martin's Courtyard, London WC2E 9AB dallaterra.co.uk
Do you remember wine bars? Perhaps not, but for those of us who ate and drank BSM (Before Social Media) and before mobile phones and email, they were places where lunchtime often turned into evening and the office became a distant memory.
Back in those halcyon days no one could contact you, no one could find you and the next day you could say you'd been out at a client meeting. And in fact you probably had, the client being often on the next stool.
These days in the No Fun world, wine bars have become almost extinct, which is a shame. But then today's workers are no fun anyway, dedicated at lunchtime to their 'workstations' where they munch their sad sandwiches with one hand and update their LinkedIn profile with the other.
Not me and J though, we love a lunchtime drink leavened with a bit of food and Dalla Terra is a modern version of the wine bar. Gone are the rather dodgy plates of food and often dodgier wine and instead comes trendy little small plate food and a real Aladdin's Cave of Italian wine and some Californians
Located in Slingsby Place, a courtyard/square that I never knew existed and perhaps has only recently been created, Dalla Terra is bright and modern with windows that fold back to allow the light and air in on those now legendary sunny days.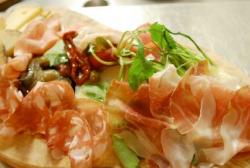 Chef Araldo De Vitis formerly of St John is manning the small kitchen and from a seasonal menu he sent us out some Culatella (Little Backside) – a Parma Ham that other Parma Hams must doff their piggy caps to. Cured in a pig's bladder in the breeze from the river Po, it's expensive to make but well worth the effort. It came with crunchy celery tops, some walnuts and delicate radish parings that bit into the fat and balanced it out.
The wine list, 180-strong, is mostly of course Italian wine, with loads by the Enomatic® glass, and is a thing of wonder. You can also buy any of the wines paraded up on the shelves and pay corkage to drink them, a system I couldn't quite work out the logic of but I assume is cheaper.
We knocked back a bit of Prosecco Noai Brut, a rather bitter Prosecco but intended that way, and followed it with Orion, a whacker of a red wine using just the Primitivo grape. From the kitchen came pork filet sat on vibrant greens, possibly cavolo nero, flavoured with anchovy and partnered with a blob of mayonnaise. A good match all round.
Jokingly called an Italian version of the Full English, a plate of white beans, poached egg, tomato and Italian sausage was the sort of dish that was happy to trade punches with a glass of Sacromonte Montecucco Rosso. A dish to get busy with, bread wiping of plate obligatory and don't stop until the plate enamel comes off.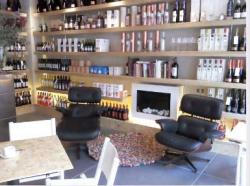 We squeezed in a beautifully cooked piece of fish, hake I think my notes say it was under the wine splash; it's skin as crispy as an ATM ten pound note. Chickpeas gave an earthy, terra, contrast and sweetly acidic tomatoes held it all up. A super Sangiovese washed it down.
Enoteca Dalla Terra seems to have passed by the taste mongers of Twitter, perhaps it's too grown up or even, in its rejection of finger food, old fashioned, yet it has the makings of a place I'd go to regularly for drinks and a tasty bite. Perhaps it's rather secret location works against it, as does nearby Jamie's Italian (Jamie's Italian what?) hoovering up all the tourists. The wine bar may be dead, but Dalla Terra suggests it's not lying down.