Having held colonial status for nigh-on half a millenium, Goan cuisine is a melting pot in the truest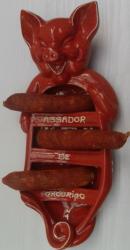 sense of the word- indeed, so fiery it's in danger of burning through the toughest cooking vessel. As Gregg Wallace might phrase it, 'cooking doesn't get hotter than this'.
Or, perhaps, more intriguing. Goa only achieved independence in 1961, and, fittingly, has a fascinating culinary legacy- informed and influenced by many groups of invaders and insurgents, not to mention the native populus. The coastal location delivers bounty from the Arabian sea, whilst the searing temperatures of the West demand a similar heat on the plate.
Religion has played a major part in filling the Goan pantry and shaping the kitchen. Although the state has Hindu roots, the Christian community continues to be a major presence thanks to four hundred years of Portuguese colonial rule. Metaphorically sitting cheek by jowl at the dining table, each religion has brought something to the feast, as have myriad peripheral minority groups.
When Goans party, it's a safe bet local hooch fenny will be central to the celebrations. Fermented from cashew fruit, it's rough, ready and packs one hell of a punch, and is as much of a staple to many as rice and seafood. Pork is widely consumed and much enjoyed amongst Catholics, with that Portuguese influence showing through in chorizos and sausages spiked up with the Goan flavour treatment.
Pork is the classic meat in the most famous Goan dish, vindaloo- its name derived from the Portuguese for wine (vinho) and garlic (alho), and a traditional means of preserving meat. It also forms the basis of sorpotel– a curry not for the squeamish, replete with liver, heart, tongue and blood. A regional fondness for offal also renders beef tongue a common celebratory dish. Chillies are widely adored- helping Goans break a sweat since their introduction by the Portuguese.
The ocean supplies Goa's fish markets with some 117 varieties, used in curries like ambot tik and riechard– a pungent, tangy preparation. Balchão is a dry, fermented prawn pickle, the tiniest amount adding savour to a vast mound of rice. Intense dried prawns also combine with their fresh counterparts in the dish called samarein chi kodi; and dried, salted cod, 'bacalhau', is used in myriad ways.
The coconut is much revered- indeed, a Goan Christian version of the Christmas story tells of Mary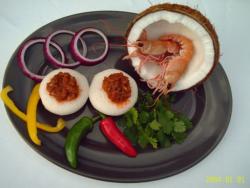 and Joseph finding shelter beneath the branches of a palm. A beloved sour taste is obtained variously with lime, tamarind, vinegar or kokum- a sour fruit which imparts an addictive smoky tang. Thin, tomato-rich gravies are sopped up with sannas– fermented rice-and-coconut sponges much like Chennai's idlis; or perhaps pao- leavened, Western-style bread.
The taste for coconut pervades the sweet palate, too- the harvest-time Pathoyeo consists of turmeric leaves stuffed with coconut, jaggery, dahl and rice. The intricate, multi-layered bebinca is a popular Christmas dessert, made by painstakingly grilling wafer thin layers of a coconut-and-egg batter until a cake a good few inches thick is formed- tasting like the most luxuriant baked custard ever.
Goa is known as 'the pearl of the Orient'- perhaps initially coined to describe the verdant splendour of the diminutive state, but surely, too, an apt description of the people and their cuisine. Goan food is, by turns, rich, searing, tangy, soothing, vibrant, sweet, sour, savoury… in short, all things to all its people. A fascinating, endlessly complex table demanding- indeed, deserving- further exploration. Goa-on- your palate will thank you.
For a taste of Goa in your own home, Dos Santos Foods offer a selection of specialities including sorpotel, sannas, savouries, pickles, bebinca and chorizos- including unusual venison and boar options.
To view the range and place an order, visit Dos Santos Foods at http://goanfood.co.uk
Visit the factory shop, open 12- 4 p.m. six days a week by appointment (call 0843 289 6588), at 118 Windmill Road, Croydon, Surrey, CRO 2XQ