Entree Restaurant and Bar, 2 Battersea Rise, Clapham, London,SW11 1ED.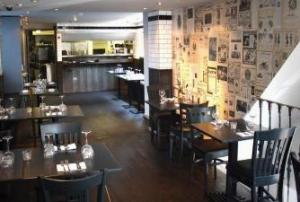 'You know that you can see right up the girls' skirts when they climb those stairs?' asks P, pausing for a moment from sucking on her colourful cocktail. Really dear I hadn't noticed. Well, actually of course I'd noticed, that's why I was busy looking anywhere but in that direction. Being thrown out of a restaurant for noncing before the starter could be viewed as unprofessional behaviour in some quarters.
The basement bar in recently opened Entrée isn't actually designed as a viewing platform for perverts, it's somewhere cool for a pre-dinner drink and, with a piano in the corner, it obviously functions as a stand-alone meeting place too. On a scorching evening in this wealthy part of Clapham, it's a good place to be. On the other side of the road it's wall to wall noisy restaurants and bars, all packed with men wearing flip-flops, knee length shorts and sunglasses on top of public school hair. Opening a more restrained, food-focussed place on this stretch of road is either foolhardy or supremely confident
It seems to be the latter as upstairs in the restaurant there's not a spare seat to be had and people without reservations are being turned politely away by the glamorous girl on the door. The kitchen at the back is open to view and the dishes are being banged out with gusto. It's a menu of classic local restaurant Now That's What I Call Modern European Dining dishes with the occasional stand out offering.
Beaten by P to my first choice of starter I went for buffalo mozzarella wrapped in prosciuto and baked in the oven. Not the most glamorous looking dish, it resembled a charred cricket ball, it wasn't the most exciting taste-wise either. The main problem was with the mandolin sliced courgette salad it sat on, full marks for presentation but who forgot to wash the salt off the courgettes? By all mean degorge them of water but don't leave the salt on guys, this is basic stuff you should get right.
Far better, as I resignedly knew it would be, was P's scallop and crab lasagne with chive beurre blanc, which was a very good dish indeed. Not a lot of scallop, but the pasta was velvety smooth and the layered filling opulent and I only got a small bit grudgingly passed my way. This was a dish that backed up chef Omar Palazzolo's claim to have worked at La Gavroche, a claim that the salt-laden mozzarella offering had undermined.
On a hot day pork belly is perhaps not the wisest choice but I like pork belly anytime or place. This was advertised as coming with chorizo Lyonnais potatoes and mushroom sauce but I didn't pick up on the chorizo, normally quite an assertive ingredient. Perhaps Omar could be a bit bolder with it next time. The belly was quality from Denham Estate, very tenderly slow-cooked and confited and coming away in juicy, straggly forkfuls. A bit more crackle in the well-seasoned crackling is all that could have been done to improve it, but the line between crackling and teeth-destroying is a fine one and it's probably best to err on the side of caution. The apple sauce helped cut the fattiness, but I still think apple sauce is baby food.
P's hunk of cod sat on bed of broad and borlotti beans, with tomato, fennel, lemon zest and asparagus spears thrown into the bisque sauce to create a tricolore summery setting. She liked the veg but reckoned the cod itself, though cooked to a T, was a teensy bit bland, but then cod often is, it's the rarity value which has brought it out of the chip shop and into the dining room. It needs a dancing partner to trip the light fantastic properly.
And so to dessert, a basil pannacotta had the authentic tang of fresh basil, which in this country is also a slight bitterness too. Served in a glass, not wobbling on a plate (playing it safe) it had a strawberry in the centre and a white wine sugar syrup on top. It was good, if unremarkable. Lemon posset, that Victorian nursery staple was sharp and cleansing and all you could ask for really.
So a new place in a familiar space, previous restaurants have been carried out from here feet first It's new enough to excuse some small teething troubles and cool enough to attract those locals not given to braying loudly when talking. Prices are pretty fair too, so all in all Entrée has had its formal introduction, all that remains now is for it to make itself at home.