48 Eastcastle Street, Fitzrovia, London W1W 8DX www.ethosfoods.com
It's takes me about three minutes of arriving at ETHOS before I realise that this veggie, vegan, pay by plate weight concept is truly genius. Three minutes, that is, of feverishly sprinting around a buffet table, ladling spoonfuls of rainbow coloured salads and mysteriously named, steaming morsels of vegan goodness onto said plate; frowning as I scrutinized a tiny sliver of white porcelain left still exposed as a vague sense of panic at missing something that could, theoretically, run out before I get to it set in.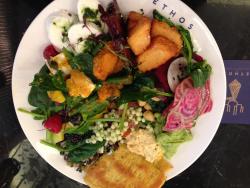 ETHOS is a little place tucked away behind the shopping hordes of Oxford Circus and still feels like a little secret, despite its growing popularity and notoriety with London vegetarians.
I dropped by on a Tuesday for lunch and was surprised, not only by the unusually warm greeting I received (I've been to places in Oxford Circus that have left me fearing for my physical well-being after facing the ferocity of serving staff) but also by the sheer range of delicious food on offer here, from hot and cold mains to a dessert cart and full drinks menu with everything from green smoothies and wine to ostensibly healthy cocktails like the Sweet Pea – a mix of muddled vodka, sugar snap peas and sugar syrup and fresh lime juice.
Mind you, everything looks good here, including the interior, which is all silver birch tree centerpieces, leather seating in shades of opulent blue and gold and onyx marble tables that gleam as brightly as the outrageously healthy looking people who visited to cram takeaway boxes or plates full of delicious looking good stuff.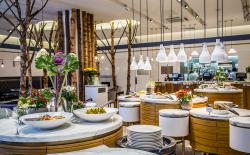 I'd been invited to try ETHOS' latest additions to their menu – a selection of dishes that had been timed perfectly with the obligatory January detox and incorporated the latest 2015 food buzzword: fermented. Fermented foods are meant to contain live cultures to aid digestion, just ask the Scandinavians, who have been eating fermented food since the dawn of civilisation and look pretty damn good for it.
With the aim of having a slightly healthier 2015 than the 2014 that preceded it, my dining partner – who has visited ETHOS before and came home raving about it – and I were quick off the mark to delve into these new fermented, salty and pickled plates.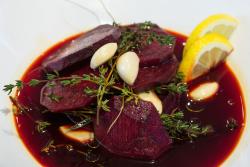 Beet Kvass, a Russian concoction of sliced beetroot with salt, made a significant appearance on my plate. Beetroot is supposed to be packed with probiotics and enzymes that are meant to help purify the blood, boost energy and potentially improve liver function, but all I noticed was how these prettily pink, candy cane striped discs tasted refreshingly just of themselves.
Other standouts on offer included a deceptively simple salad of delicately wilted spinach, ripe mango, raspberries and meltingly soft avocado; a huge, freshly fried and golden brown halved scotch egg filled with a sort of aloo gobi spiced potato mix and a fat busting, ridiculously good for you tasting chickpea and green bean detox veg mix.
Alongside exotic salads and grains there were also slightly more unusual veggie supplements like Seitin, a mock meat protein made from wheat gluten that was sliced into convincingly rib like pieces and smothered in bbq sauce – something that confused both my mouth and brain with its oddly meaty texture but distinctly un meaty flavour.
The desserts were also a surprise. I've often spoken (ok, ranted) about how I detest what I describe as'substitute' desserts, one that sacrifice taste in favour of cutting out fat and sugar and all the good things cakes and puds are meant to be packed with. The desserts here, while still retaining a semblance of their healthy label, were genuinely delicious. While I was tempted by the Coconut Yogurt with Forest Fruits i sucummbed to the siren call of a fat piece of moist, ginger spiked carrot cake smeared with a thick, pink icing that tasted of mashed strawberries and natural yoghurt and still had room to squeeze in a spoonful of my dining partner's nicely tart, cloud like baked berry cheesecake.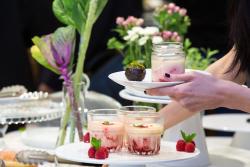 Paying by weight might not be the best idea if, like me, your eyes are often bigger than your stomach or if you suffer from buffet syndrome (the need to compulsively stack your plate with a an indecisively weird mixture of food).
But all I know is that post weigh in at the till (which came in at a worrying £14.22 by the way, which was topped only by my dining partner's stonking £18 spend – we're blaming the heavy scotch egg), when I looked down at my piled high plate of fried halloumi, Israeli couscous salad and seared aubergine, I STILL found myself glancing longingly at the banks of bowls heaving with bejeweled salads, fermented root veg and asian curries, thinking maybe I can squeeze on just a little more…
The new fermented dishes are available at ETHOS from 5th January 2015 and, as well as the Beet Kvass I tried, include the following:
Kim Chi – You'll love ETHOS's version of this fermented Korean side dish (made of Chinese cabbage, carrot, daikon, chilli, chopped tomatoes and salt). Rich in fibre and vitamins and low in calories, kim chi is leading the way as a virtuous feel good food. 
South American Pickles with Herbs – Bursting with enzymes and nutrients, with a powerful punch, this delicious pickle dish (baby cucumbers, dill, fennel seeds, peppercorns and vinegar) has a healthy measure of probiotics and flavour to match.
Rustic Salsa – A zingy, fresh tomato salsa made with Jalapeños and Serranos chillies. Packed with probiotics, vitamins and (you guessed it) those good-for-you enzymes, this is one dish to pile on your plate at ETHOS this Spring.
Sauerkraut – Kick-start the New Year with a dose of ETHOS fermented cabbage. While it may not sound appealing, the traditional German dish has a powerful impact on brain health and has been known to help combat depression and anxiety.