48 Eastcastle Street, London, W1W 8DX ethosfoods.com
Vegetarianism produces an equal number of fanatics on both sides of the coin. For every fundamentalist tofu eater, there's someone equally militant about meat – both as bad as each other for preaching their doctrine and stamping on the opposing belief. Wars have been fought over less, honestly.
This battle is probably the reason Ethos doesn't shout too loudly about it's vegetarianism. They want their food to do the talking and don't want to be rebuffed by those of a meat-eating persuasion because of their…um…ethos. It's a thoroughly uninteresting observation, but meat-eaters will happily scoff plates of vegetables so long as they're not told that meat is absent on principle.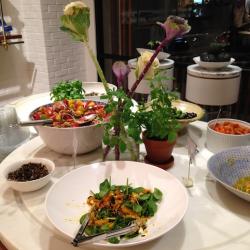 Tucked around the corner from Oxford Street, buried beneath seven stories of scaffolding and polythene, Ethos announces itself quietly with a wall of cool, clear Apple-store like glass, and the food as the centrepiece of the window display. Inside, the white walls, white floor and white lights would give a sterile futuristic feel, were there not a small forest of silver birch surrounding the tables and a widescreen fire burning in one corner. It's an odd mix of styles, that works well, strangely.
Eating at Ethos involves approaching tables of hot and cold food, piling your plate high, and paying by the hundred grams. More canteen style than restaurant, but they do sell wine, which always lifts the level of sophistication up a notch. With so many dishes to dip a serving spoon in, it becomes hard to tell where one ends and the next begins, especially if you're hungry.
Plate straining under the weight of seitan ribs and various fried, boiled and stewed vegetables, I set about trying to determine what I was eating and then gave up. It doesn't really matter, the majority of dishes are incredibly similar, some just more spicy than others. These homogenous dishes are a good base for the principle characters though: those interesting options that really stand-out from the rest at the serving bar.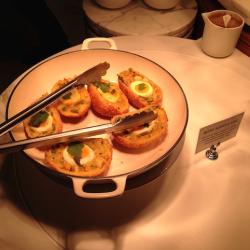 The scotch egg, for which we had a master class prior to eating, caught the eye first: a colourful yolk, set within an equally colourful vegetarian'sausage meat' casing and served with a sticky jam of some description. The egg soft, the casing flavourful, the accompanying condiment sweet, this is a dish that cries for a second helping – their signature dish and rightly so. The seitan ribs were also interesting; mainly as they had the word'rib' in their name. There's no meat here and, of course, no bone. Instead, some sort of vegetarian witch-craft, shaped into the thin knobbled form of a rib. Smokey in taste, meaty in texture – where it not for the missing bone, I think some meat-lovers could be fooled, for the first few bites at least.
Main course over, there was still room for dessert – well, it is vegetarian after all, you can eat until the cows come home, so to speak, and still have room for more. Here, the meal shifted up a gear. While the main dinner had been good fare, but not gourmet, presented correctly these puddings could find a fairly large price-tag hanging off them in some boutique trend-hole. I ignored the meringue (urgh) and took a bite of the chocolate ball, donut and compote in a jam jar; when will this fad die out? What's wrong with a bowl or ramekin?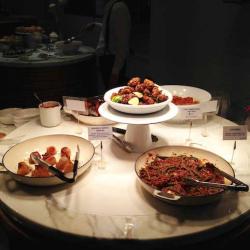 I wish I could describe the puddings in more detail. I should have listened to the waiter and taken some notes, but my sweet-tooth often blocks my ears. Perhaps needless to say, they were delicious. The donut, moist. The chocolate, perfectly bitter. The compote, sharp from the lemon and smooth from the cream. One afternoon soon, I'm going to come back just for my sugar fix.
Ethos is a good addition to a street loaded with chains. Ignore the vegetarian focus, stack your plate with a healthy base of vegetables and open your eyes to the novel and interesting dishes on offer. Save room (or at least time) for pudding too. It's a key component of a satisfying meal and the one area that even meat-eaters will admit can't be improved by the addition of steak.