We try out great pizza that's delivered to the door, or picked up, from any of Firezza's 19 locations around London.

Once upon a time pizza was just about the only takeaway you could get reliably delivered to your door.

Well I say reliable but more often than not it would arrive upside down, or slumped at one end of the box because the delivery driver didn't really take any care.

This then involved you scraping the topping off from the cardboard, which added a certain unusual taste profile to your marinara.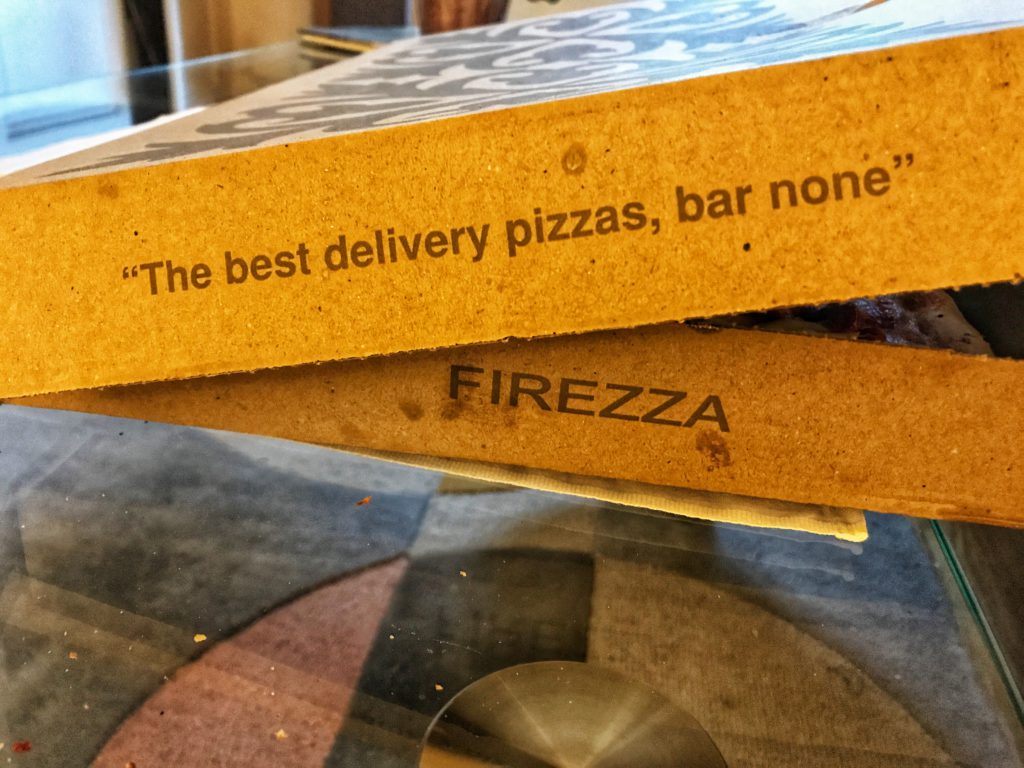 Needless to say Firezza pizzas arrive perfectly in place.  What may surprise is that they are not round, but oblong. Blasphemy? No not at all.
These are Pizza al taglio (Italian for 'by the cut') or 'Pizza a metro' if you like. Either way this style originated as a way of creating a pizza to suit the number of people at table, or as an easy way for pizza to be sold by the slice as a single portion takeaway.
FIrezza's pizzas, which started in 2001, come by the half or full metre and are stone baked at a searing 400C. So our 50cm pizza was still well hot when it arrived from down the road – our local Fireza rose from the ashes of Pizza Express, who did a bunk as soon as Covid occurred.


We'd gone for a half and half:  Bufalina – imported buffalo mozzarella, roasted tomato, basil and olive oil and Salsiccia – a white pizza with Sicilian-style sausage, friarielli (Italian wild broccoli), cream, garlic butter, mozzarella and fresh red chilli.

We also rather madly ordered some of their not-exactly-pizza hot chicken wings, breaded chicken and potato wedges. Mad because there was enough pizza to easily feed us two.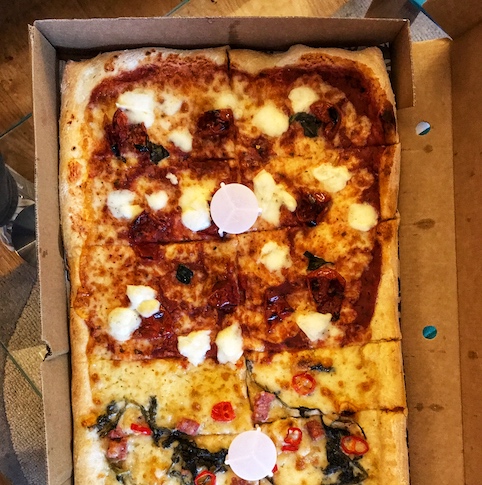 First the Salsiccia. The base was spot on by my standards for delivered pizzas, meaning a bit crisper and chewier than I'd expect in a restaurant, where a more liquid centre area would be correct.
Looking underneath it had the numerous brown spots you only get from a properly red hot stone and a quick 'fire'. The crust was large, as befits a pizza originally intended to be eaten on the go and thus needing a substantial handle.
I was a bit disappointed to find the chilis had no heat at all – i took one off and ate it on its own just to be sure – and the sausage quotient was a bit skimpy to say the least.

Otherwise this was a good effort, the wild broccoli particularly welcome. Quite a dry pizza, by which I mean not sloppy, and I liked that..

On the other side of the box the Bufalina of course had the same base, but was juicier with large globs of mozzarella, just slightly melted as they should be, and rich with semi -collapsed roasted tomatoes. We liked this one slightly better even though it was messier to eat.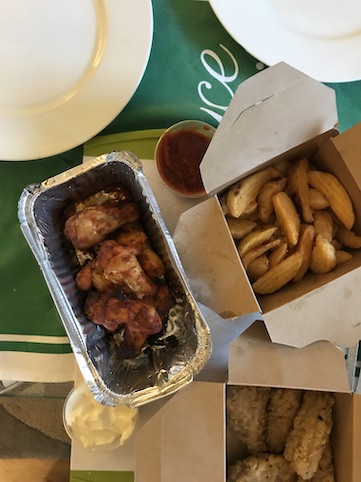 What about the breaded chicken, the wings and the potato wedges?
Well I am not too sure why Firezza does this, presumably to cater for non-pizza eaters, but it's a pizza restaurant at the end of the day.
The wings were good, already spicy and made more so by a zingy tomato dip. The breaded chicken and wedges had not enjoyed their journey though and were limper than Alan Carr's handshake.
They were also a bit bland, even the rather fine rosemary and mayo dip couldn't breathe much life into them.


Still Firezza is all about the pizzas and they're good and there's plenty of choice  – around 22 – and you can customise toppings to your heart's content as well as go for a quarter, a half or the full metre.

Every day they have great deals going on, so it's worth checking the Firezza website regularly.