We've come a long way from the flock wallpaper and sitar music of the original 'Indian' restaurants. Flora Indica has gone even further.

A kind of steampunk 3D wall collage, Victorian artefacts, and a peculiar old phone box are the first thing you see coming in to Flora Indica restaurant. From the speakers comes the sound of a French woman singing PInk Floyd's 'Comfortably Numb', now rendered as a cheerful upbeat jazz tune. Which is a bit surreal.

It is rather fun though, it makes the point early that this is not vindaloo and chips territory. Green walls, a fair bit of teak and some tartan make up most of the decoration and it's both a romantic and clubby vibe.

It's all apparently inspired by Flora Indica, a book about Indian plant species created by intrepid Scottish botanists and published in 1855. As an inspiration for decorative themes goes, it's certainly unique.

And so is the 'Indian' food, as there's a creative twist to every dish on the reassuringly short menu.

I don't trust long menus you see. I know for certain that some of those many ingredients will have to be retrieved from the bottom of a freezer and rapidly thawed out.
Even though it's short, the menu has so many good things on it that we still dither and haver over what to have.

While we do that, we munch on Kurmure okra fries, chaat masala and lemon. They're lovely, I have a thing for the sourness of chaat masala and, combined with the lemon juice, it makes the okra sing.

From the starter menu, the waiter recommends, somewhat inaudibly through his mask (June 2021) the Jerusalem artichoke papdi chaat, tamarind and yoghurt. Having just come back from a mini break in Suffolk, we also choose two suffolk lamb chops tandoori, garam masala and yoghurt mint sauce.

The papdi chaat is superb; sweet and sour and with the pop of pomegranate seeds and with the unusual flavour of fried Jerusalem artichoke. It rises high above its streetfood origins and is a gloriously messy eat, too.

As to the lamb, it's gorgeous, although not quite as good as Lahore, but then nothing is, to be fair.

The meat is excellent, but I don't think the tandoor was running hot enough to give that extra smokiness. Still, no complaints at all as we gnaw down to the bone.

The French woman is now delivering a menacing jazz version of 'Every breath you take', a song already menacing enough.

Mains #1 is monkfish and king prawn with bengali malai curry sauce. A gorgeous colour and richly, but not overpoweringly, spiced. A very classy dish making the most of its high value ingredients. The garlic and chilli naan is put to good use mopping up sauce,


Mains #2 is slow cooked duck leg on the bone with sally potato and coconut sauce. I never did find out what Sally referred to, but the sauce lusciously coated the plump leg and the coconut sweetness partnered with the meat to good effect. In the background was the hum of chili and the tang of fresh tomato.

I wish the whole dish had stayed hotter longer though. Say what you like about the steel serving dishes and candle-powered plate warmers of olden days, they worked very well. My sauce started to cool and stiffen up before I had eaten it all.

Fantastic rice, the longest 'witches fingers' I have ever seen outside of an Iranian restaurant, flavoured with Kaffir lime leaf and dotted with pistachios. Slow cooked black lentil and kidney bean makhani with kashmiri red chilli, one of my favourite dishes, was excellently done.

We spooned that onto that garlic and chilli naan and were well happy.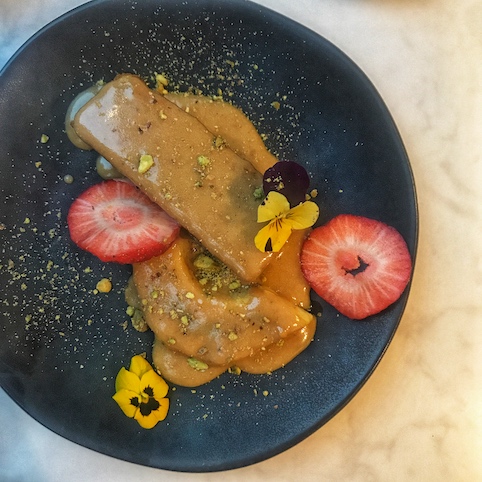 Flagging a bit, we went for one dessert of shahi brioche tukda, tandoor pineapple, pistachio crumb and saffron cream. Bit of a change from the usual kulfi and all the better for it.
This could have been served in any fine dining restaurant, the kiss of the tandoor on the pineapple reminiscent of a similar kind of dish in Heston Blumenthals 'Dinner'. A tenth of the price.

We drank, by the way, a rather excellent Amber Ale made especially for the restaurant, it was the perfect drink for all the dishes.

Flora Indica is in a handy location, a few minutes from Earls Court tube. Apparently there is free parking nearby of an evening. They also do takeaways and a good-looking vegan menu as well.

This is top flight Indian food for somewhere outside Zone One, a place for a night out and a calm vibe, not a korma one.