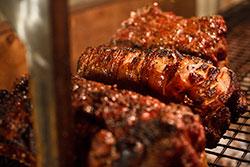 There is a momentary break in the merry chatter and boisterousness on our table to admire the oval dish laid down triumphantly in the centre of it. On it rests a bed of roast potatoes and garlic, with an enormous porchetta on top. It looks mouth-watering, with a dark golden crispy finish and a cross-section that shows a perfectly cooked piece of meat in the middle. My companion pulls out the large, serrated knife that sticks out of the top and begins to slice before dishing out the food to hungry patrons.
This is Forza Win(ter), the seasonal iteration of the communal supper club Forza Win. Started a couple of years ago in an enterprising young man's garden and now in its fifth season, it has grown to become the go-to food event for young urbanites looking for a great evening.
The idea is simple: guests buy tickets at £35 a pop to eat a three-course Italian meal at a secret location in the East End. The emphasis is very much on the communal aspect, with diners being seated alongside strangers to bring out their social side. An evening of good food, drink and steadily-merrier-as-the-evening-progresses banter ensues.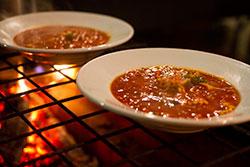 I go for a home-made Italian punch before the food arrives. It's herby and refreshing, the kind of stuff you could happily glug for hours were it socially acceptable and if your body could handle it. We are shown to our table and find the clientele to be distinctively of the young, urban variety.  
I hesitate; am I trendy enough for this? I don't wear thick, black-rimmed glasses, I don't button my shirt up all the way to the top sans necktie, and I don't attend the de rigueur street food events in Hackney and Dalston to which I receive constant invites, although one of these days I may cave.
Happily, our table turns out to be a pleasant bunch which we warm to quickly. Dining with complete strangers is a fantastic idea; far more rewarding than being restricted to speaking only with those you arrived with.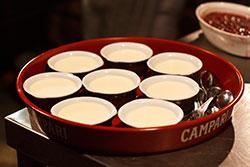 The food itself, of course, is communal, and what a feast the cooks have prepared. The main course of porchetta is spit roasted over Kentish oak, then laid to rest in a lightly-warmed pizza oven before being served. The meat is cooked perfectly, with just enough rarity to provide a full flavour and some of the best crackling I've ever had the pleasure to eat.
The roasted polenta potatoes are crispy on the outside and soft in the middle, as they should be. The main course was accompanied by a warm kale salad with chestnuts, lemon and anchovies. Kale is in season and seems to be served everywhere at the minute, which is fine by me as I love it, and this is wonderfully crunchy with a delicious dressing.
Preceding this was a starter of minestrone; not the supermarket value stuff your mate at uni had for dinner every night, but a delightfully rich and spicy concoction of tomato, pasta, and shredded ham. Served, of course, in an enormous bowl to dole out to hungry diners, with fresh green pesto and slices of rustic bread accompanying. It is rich, hearty and delicious, just the thing with which to combat the impending winter.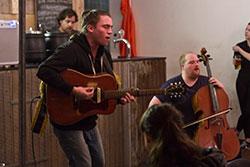 The dessert is a small white chocolate panna cotta, with a warm cranberry sauce to drizzle over the top. It's light and delicate, the perfect foil to the heartiness of the preceding courses. There is no pretence here, no need for table etiquette. It's an unapologetically filling and hearty Italian winter feast, just as it says on the tin. Apart from the complimentary one upon entering, drinks must be bought separately and there is a selection of Italian wines from independent producers to choose from, as well as whiskies and beers.
After everyone has been fed and watered there is some entertainment, with two-fifths of the talented Josh Flowers & The Wild performing a variety of acoustic numbers to get our feat tapping, including a hilarious cover of Daniel Bedingfield's'If You're not the One' for a girl celebrating her birthday. It rounds off the evening rather well.
At £35 per person excluding booze it isn't cheap but it is fair value – the produce is seasonal and locally sourced, cooked to perfection, and there is plenty of it to go around. The atmosphere is fantastic, and the entertainment top-notch.
We've already resolved to return with more people next season. Availability is scarce, with only a few tickets left this season, though last-minute availability is announced through Forza Win's Twitter. If pop-up dining is your thing then put aside any preconceived notions of your own trendiness and just go – you won't be disappointed.