It's apt that Paul A Young's signature hue is a rich royal purple – 'cause there's little doubt that his chocs are fit for kings and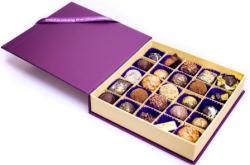 queens. I may be just a simple commoner, but I always relish the chance to savour his sweets. Which aren't, in fact, always especially sweet.
This master chocolatier has a rather cavalier approach to flavour inspiration. From black pudding to tangy rye bread, little is off-limits. But when it comes to making the dream a reality, Paul boasts the precision of a surgeon and the judgement of an acrobat, walking the tightrope-fine line between 'too much' and 'not enough'.
I can never have enough of Paul's products, and I'm about to judge how dreamy the latest festive collection is in reality. Nice chocolates are wholly appropriate for a midafternoon munch, wouldn't you say? Ahhh, c'mon, it's Christmas. I'm tucking in and you can't stop me. 
A little tipple to kick things off, I reckon – the Glenmorangie truffle, whose light, buttery milk ganache warms the throat and the cockles concurrently. What would whisky be without a slice of stollen? I've got that full-on flavour in the form of Paul's ooey, gooey marzipan truffle, infused with all the nuance of that lovely German log. 
Whilst we're in the Christmas bakery aisle, why not try Paul's mince pie truffle? Aneesh Popat, The Chocolatier, has a similar specimen, rolled in pastry crumbs just like this one. Both are beautiful. And if those two chocolate kings could find a third, I'd bestow them with the gold, frankinscence and myrrh truffle whose super-soft centre I'm currently dipping my finger into.
It wouldn't be a proper Paul A Young box without one of his cracking caramels. This one's made with muscovado, festi-fied with orange and cinnamon spice. Those flavours put me in the mind of mulled wine, which is handy, 'cause there's a boozy, spice ganache by just that name in the box – and this intoxicating chocolate bomb has my name written all over it.
Whisky and stem ginger truffle teases the tongue, the boozy ganache studded with stem ginger. A fruit-and-nut-topped mendiant allows a moment to just enjoy a right tasty bit of dark chocolate decadence, before things go all Willy Wonka again with a sublimely salty-savoury port and stilton sensation.
As you'll probably gather as you regain your composure after reading about this seductive selection, this is not your standard selection box – by any stretch of the imagination. It's quality, but it surely ain't Quality Street. It's not Terry's. It's Paul's. And, I'm happy to report it's mine. All mine.