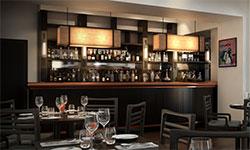 Leafy South-West London is getting a new kid on the block from 2014, when London House opens its doors in February. The latest offering from the Gordon Ramsay Group promises dining just as stylish as its surroundings, with a separate drinks lounge serving premium spirits, modern and traditional cocktails, London-brewed beers and a carefully curated wine list.
The main dining room will feature a contemporary, neutral decor with luxurious leather seating, whilst the drinks lounge will be more relaxed with comfy armchairs and sofas in which to sip your favourite tipple by the fireplace.
The menu is comprised of Modern European dishes, with a heavy emphasis on seasonally available produce, with a kitchen headed by Irish-born Anna Kelly, whose wealth of international experience should make her well suited to the job.
London House will be located at 10 Battersea Square, SW11 3RA.