'Red Rum Red Rum on the Murder Mile!';'Cardamom Gin on the Murder Mile!' I haven't lost it totally – let me explain: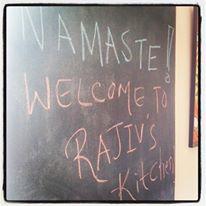 When I lived here many years ago, this stretch of Lower Clapton Road was called Murder Mile – not because the kebab shops were dodgy, but for the incessant drive-by shootings. Tonight was a different story, however, as I traipsed up a steep stairwell to a cosy lamp-lit dining space with trestle tables above a hipsterish, global community grocery store called Palm 2.
I was there to visit Rajiv's Kitchen, a Nepalese supperclub – for the host's'Street Foods of Nepal' night. Certainly not something you'd find in the heady 1990s. Happily, we were welcomed not with murder, nor rum, but a Butler's Gin and tonic. There's that tenuous link explained, and oh, I apologise.
The vivacious and wiley Ross Butler sat opposite me. The 25 year-old entrepreneur has refined a delicate lemongrass and cardamom boutique gin which has taken off in gin parlours in the UK, on his canal boat in Hackney, and apparently Stateside. The evening's diners were supping these out of jamjars, followed by copious BYO booze from the grocery store downstairs – handy!
The only Nepalese food I'd encountered previously was awful, eaten at a place near a mainline London train station. So I was excited to be trying Rajiv's mammoth ten-courser. It lasted over four hours, which perhaps is a bit long, but the thought of the donuts at the end saw me through.
The friendly Rajiv, a project manager by day, says he started cooking when his sisters were on their period. Didn't we all? In some places, including Nepal, it is customary to ban menstruating women from preparing food. So when his shamed siblings were banished from the kitchen, Rajiv discovered new talents.
'My sisters got their period at the same time for some reason so, for five days a month, I had to cook', he says, of the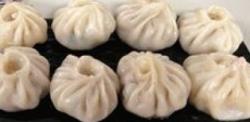 lunar phenomenon that is menstrual synchronicity.
But onto food, please. Tonight was a similarly family affair – luckily without woman-shaming – with his aunty and cousin both helping out in the kitchen. The supperclub was beginning to buzz when Rajiv started bringing the dishes out, prefacing each course with a brief explanation.
Of the ten courses, I'll just pick out the highlights. I loved sekuwa: classic Nepali chicken skewers, marinated overnight with Szechuan pepper, nutmeg, lime zest and yogurt. These were a favourite actually; moist little smudges of spiced meat enlivened by a fragrant, peppery crust.
Similarly good was choyela: marinated, grilled chicken with fenugreek seeds, more of that Schezuan pepper and lime, along with Nepalese herbs and spices. Fragrant fireballs, served with a very good nutty hemp seed sauce. Nepalese spices used throughout the menu included that hemp, along with sesame seeds, timor – Szechuan pepper, and the cumin and coriander influenced by the country's Indian neighbour – but, Rajiv told me, no garam masala.
The pork momos,'very popular in Nepal', were little sausagemeat-like dumplings, encased in salty, oily pastry before being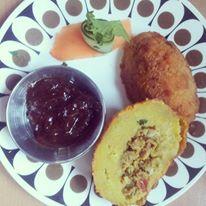 steamed. Served with a spicy tomato sauce with sesame seeds, they had a'mellow yellow' tone.
Less successful to my mind were the hyakula – sticky lamb ribs marinated with honey, yoghurt, tomato and hemp – which, unfortunately, were a bit burnt. I'll let Rajiv off though – serving 34 diners 10 courses at a pop-up venue was always going to be a bit of a stretch.
By 10.15pm we were only on course 7. But the sweet thought of sel roti kept me going though the four-hour marathon, promised with homemade ice-cream. These tasty Nepalese sweet ring-shaped rice-flour'donuts' are prepared during festivals and celebrations. You expect a light, donut-like bite, but the double-frying makes them gritty and dense – an experience which, I think, seemed quite right on that corner of Murder Mile.
Overall, a couple of the courses were perhaps a bit overdone, and if I had a suggestion to make, I'd include some green veg somewhere in the ten servings. Although, granted – broccoli is rarely considered a'street food'. But on the whole, Rajiv's supperclub revealed some interesting flavours – prepared by a great and welcoming host.